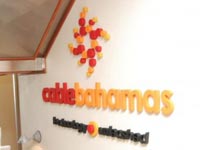 Nearly 50 people at a town hall meeting expressed outrage last night at the proposed 27 percent rate increase in the super basic cable package offered by Cable Bahamas Limited (CBL).
"At the end of the day we should not even be entertaining this because we are all still having a tough time financially," Kandice Smith said at the meeting at Town Centre Mall organized by the Utilities Regulation and Competition Authority (URCA).
CBL is seeking permission from URCA for the increase. URCA is holding public consultations on the request. Cable customers have expressed outrage at other town hall meetings.
Stephen Bereaux, URCA's director of policy and regulation, and Kathleen Riviere-Smith, URCA CEO, braved the firestorm of criticism from those in attendance.
"Cable Bahamas, let me describe it one way." Maria Brown said. "If you go to Bamboo Shack and you buy a chicken snack and the person throws the change at you, not that you didn't get the change, but they threw it, that's what they are like."
"Like they say, manners and respect carry you a long way. I don't think Cable cares because they are too rich."
Jerome Johnson asked if there was a lawyer present at the meeting.
"I ask because if I could get some petitions I would like to know how much signatures we need to stop this raise," he said.
"Because we are not going to let Cable Bahamas get no raise right now. They came in this country, they signed [a] contract with our government to 'cablize' the 700 islands and cays. How much money do they want? Why are they so greedy?"
CBL officials have said that the increase is necessary, as the cost of operations in the country has increased.
When contacted last night, David Burrows, head of marketing at Cable Bahamas, said the company understands what Bahamians are experiencing, as the cost of living has more than doubled since Cable Bahamas came to The Bahamas. Cable Bahamas has not had a basic rate increase ever, despite applying on three separate occasions, Burrows noted.
"We have been rejected three times for a rate increase," Burrows said.
"Primarily the rejections were because there was no framework in place in order to get a price increase. No one had ever done the homework or guidelines for a regulated service to get a price increase for television."
"In 2005 BTC got an 85 percent increase on their business line and a 57 percent increase on their phone line. They had not gotten a rate increase in three decades. It's going on two decades for us that we've not had a rate increase."
Burrows added that URCA said that based on their application "what we are asking for is reasonable".
"Twenty seven percent is actually less than what was justified based on the analysis set up by URCA,"  Burrows said.
"URCA's formula said we could have asked for $11.31 but we asked for $8 because of the economic times."
There were numerous people who came to the microphone to lodge various complaints about the rate increase and CBL's service.
Political activist and former Democratic National Alliance (DNA) candidate Rodney Moncur was blunt at the meeting.
"URCA should reject Cable Bahamas' application," he declared.
"I work part time for a distinguished law firm. Yesterday I was at the office and cable, Internet services and the cable signal went off. It went off. They provide poor service."
"All of us here are convinced that URCA has made up its mind. I say to satisfy us you have to reject this. Don't give them eight cents. Don't give them e-i-g-h-t cents."
Moncur's comments and presence fuelled the mood against CBL at the meeting.
Bereaux said people have until this Friday, October 19 to mail or email URCA regarding their feelings over the proposed rate increase.
"We have gotten a huge volume of comments and our process requires us to be transparent," he said.
"So we have to correlate those, we have to answer them. We can't just hear them and walk away. So there is a lot of work that URCA has to do between now and whenever we finish."
"But we hope that by early January we would be able to have some form of decision."
Article By Travis Cartwright-Carroll
Guardian Staff Reporter