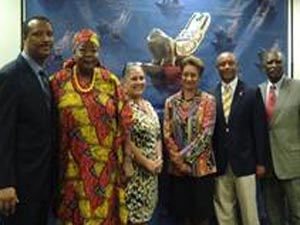 Ministry of Tourism Permanent Secretary Dr. Patricia Rogers and Bahamas Hotel Association President Stuart Bowe have announced the finalists for the Cacique Awards following a review by independent selection committees for BHA and the Ministry of an impressive slate of nominees submitted by the public and BHA members.
"There is general agreement that this year provided one of the strongest groups of nominees that we've had in recent years," said Dr. Patricia Rodgers, Permanent Secretary in the Ministry of Tourism. "In fact, there were a number of nominees whose accomplishments were so varied and equally outstanding that they were considered in more than one category.  We thank the general public for their efforts."
President Bowe echoed those sentiments adding "We are pleased to recognize individuals in the industry for outstanding contributions to the development of tourism in the Bahamas through exceptional performance.  Those chosen for recognition exemplify the service and the spirit of our hospitality business.   We congratulate all those individuals who were nominated and applaud their companies for recognizing their talent."
The top honors will be announced and presented at the Cacique Awards and People's Choice Music Program – an outstanding event planned for January 27th at the Wyndham's Rainforest Theatre.
The finalists for the 15th Cacique Awards are:
Employee of the Year
Donna Johnson
Housekeeper
British Colonial Hilton
Charlessa Rolle
Guest Services Representative
Wyndham Nassau Resort
Alva Wilbert "Bert" Adderley
Water Activities
Cape Santa Maria Resort
Supervisor of the Year
Sharacha Frazier-McDonald
Guest Services Representative Supervisor,
British Colonial Hilton
Renardo Sweeting
Bell, Luggage & Transportation Asst. Manager
Grand Lucayan Resort
Tia Duncombe
Revenue Manager
Comfort Suites
Manager of the Year
Ricardo Brown
Housekeeping & Public Space Director,
Atlantis
Lynn O. P. Johnson
Catering and Convention Services,
Sheraton Nassau Beach Resort
Mark Rolle
Property Services Director,
British Colonial Hilton
Sales Supervisor of the Year
Shantillya C. Sands
Director of Sales,
Comfort Suites
Desiree Moxey
Catering & Convention Services Director,
Wyndham Nassau Resort
Chef of the Year
Elijah Bowe
Chef
Graycliff Restaurant
Devin Johnson
Executive Chef
Sheraton Nassau Beach Resort
Cheryl McKenzie
Executive Sous Chef,
British Colonial Hilton
Transportation
Paul Sydney Levarity
Bimini
Airport Services Agent
Capt. Jack Stuart
Nassau
Mailboat Captain
Capt. Eugene Munroe
Nassau
Harbour Pilot
Human Resources Development
Candace Key
Abaco
Reef Etiquette Brochure
Janelle Cambridge
Tourism Studies Instructor,
Anatol Rodgers High School
Carolyn Hanna-Major
Director, Human Resources,
Sandals Royal Bahamian
Sports, Leisure & Events
Andra Charles Smith
Andros
Bonefish Guide
Bonefish "Ebbie" David
Bimini
Bonefish Guide
Malcolm Spicer
Abaco
Event Planner
Creative Arts
Jamaal Rolle
Nassau
Artist
Merton Thompson
Andros
Fabric Designer
Maria Govan
Nassau
Filmmaker
Sustainable Tourism
UNEXSO
Grand Bahama-Dive Operator
Candace Key
Abaco
Reef Etiquette Brochure
Bimini Biological Field Station
Bimini
Shark Lab
Minister's Award for Hospitality
Arnold Roy Rodgers
Manager, VIP Services LPIA,
Kerzner International
Elliott Green
Mangrove Cay Inn,
Andros
Paul Sydney Levarity
Bimini
Airport Services Agent
PEOPLE'S CHOICE MUSIC AWARDS
Gospel
Terrence Forbes
Caribbean Medley
Adrian Edgecombe
& Harvest Generation
Overcomer (Israel's & Song)
Terez Davis
Let Us Sing Hallelujah
Secular
Dillion McKenzie
Da Gaulin Song
Dillon McKenzie
Dog Don't Bark at Parked Car
Puzzle
Jobless
The BHA awards program was initiated in 1987 in celebration of the 35th anniversary of the Bahamas Hotel Association.  At that time BHA commissioned Bahamian artist Quentin Minnis to create the Duho, which has become the symbol of the Cacique Award.
In 1995, the Ministry of Tourism and BHA announced the establishment of the Cacique Awards – a merging of the Ministry's awards with the BHA awards to create a new program designed to recognize the role played in national life by those individuals who make particularly valuable contributions to the growth and development of tourism in the Bahamas.
"We commend the Ministry of Tourism for taking this awards program to new heights and helping to make it one of the most prestigious national honors one can receive" states President Bowe.  The organizations thanked their respective selection committees, the Ministry's Blue Ribbon Committee Chaired by Mr. Antonius Roberts and the BHA Selection Committee Chaired by Ms. Barbara Hanna-Cox.
Bahamas Hotel Association (BHA)