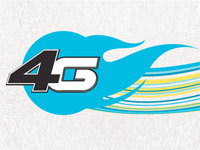 Ever since the Bahamas Telecommunications Company (BTC) launched 4G in Nassau less than 12 months ago, the company has been on a fast track to upgrade its infrastructure countrywide, offering its customers faster speeds and the ability to browse the Internet, watch music videos and play interactive mobile games on their smart phones.
Last month 4G reached Cat Island and the residents now join those of New Providence, Grand Bahama, North, South and West Eleuthera, Exuma, Bimini the Berry Islands and Abaco already enjoying the dramatically faster 4G agility. The South East islands of The Bahamas are next, completing the on-time roll out schedule.
The 4G Family Fun Day launch on Cat Island's New Bight on December 2nd celebrated the arrival of the new fast-speed cellular service with live music, games, giveaways and assorted goodies for both adults and children. Some customers arrived early to be sure of getting the new faster 4G smartphones and a first look at the specially-priced Christmas packages.
Addressing the Cat Island residents during the 4G launch event, Marlon Johnson, BTC Senior vice-president of brand and communications, said: "This celebratory launch of 4G in Cat Island is the first in a month-long series of BTC Christmas season activities country-wide. We have a lot of exciting community events and activities planned, including several Christmas Fun Days at other BTC locations. From toy drives and parties for less fortunate children, to the opening of our Carmichael location on December 15, BTC has a lot happening throughout the month, culminating with one lucky customer winning a brand new 2013 Ford Escape to be presented in January."
With 4G barely out of the box, BTC has already foreshadowed plans to introduce its Long Term Evolution (LTE) network within the first three months of 2013. The LTE network will be 10 times faster than 4G and the full roll-out will most likely need 12-18 months. The big reveal was made at this year's Abaco Business Outlook by BTC CEO Geoff Houston.
BTC launched its 4G network when it opened its Mall at Marathon flagship store following a $500,000 makeover just under a year ago.  The company has invested approximately $43 million in its 4G mobile network.