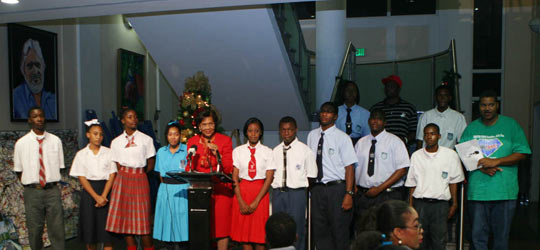 The Ministry of Education, Science and Technology held a ceremony in the Foyer of the Ministry on Friday, Dec 14 to open its National After-School Art & Craft Enrichment Programme Annual exhibition.
Senior Education Officer in the Ministry of Education Rochelle Cox-Hill said "the art work displayed represents what it means to be great at what you do. It is safe to say that the objectives of the programme have been met. We have fostered an appreciation for art and craft as part of the defining characteristics of our culture."
The exhibition was declared officially open by Director of Education in the Ministry of Education Mr. Lionel Sands who read the speech on behalf of the Minister of Education, Science and Technology the Hon. Jerome Fitzgerald.
He said the programme is the brainchild of Mr. Max Taylor, who should be commended for believing in the abilities of the students and thus proposing the idea to the then Minister of Education the Hon. Alfred Sears.
"I commend all of the persons who bought into his vision and made it a reality. I thank persons like Mrs. Genevieve Richards, centre manager; Timothy Nottage art instructor; Mrs. Carolyn Beckford, support staff from the centre and Mrs. Eula Gaitor and the staff of student services who work tirelessly each year to bring us joy through this exhibition," continued Mr. Sands.
"The government realises that culture has an important role to play in the diversification of our economy. One of the things that the government promised in the charter of Governance was the creation of an Arts Council which will locate local and international venues to promote and sell Bahamian craft," he said.
Director Sands said the council will also highlight artistic work on its website, which will be accessible to millions of viewers.
"Seeing the work in this room I believe the National After-School Art & Craft Enrichment Programme can begin to head in that direction sooner by establishing its own website to showcase the work of the students."
Mr. Sands said over 200 students have passed through the doors of the centre since the programme began, with  the majority of them being males.
"This speaks to the quality of the programme, that it can attract young males. Perhaps we may need to explore opportunities to attach a version of this programme to the various Urban Renewal Centres throughout the country so that we can introduce and engage more young males in this wholesome activity."
By Stirling Strachan
Bahamas Information Services