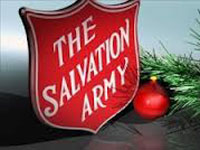 In this time of renewal and giving, Baha Mar launches its 3rd annual Baha Mar Challenge with the Salvation Army. During the Challenge, which runs from December 15 through December 31, 2012, Baha Mar will match donations dollar-for-dollar up to $10,000 to the Salvation Army. The Challenge supports Baha Mar's ongoing initiative to help enhance the quality of life for Bahamians.
"As an active member of the community, we believe that there is an obligation to be a socially responsible corporate citizen", said Robert Sands, Senior Vice President of Administration & External Affairs. "Baha Mar is honored to partner with the Salvation Army again in an effort to positively transform the lives of the people with whom we live and work, especially during the holiday season." Proceeds from The Baha Mar Challenge will benefit the Salvation Army's "Welfare & Feeding" program and the School for the Blind & Visibly Impaired Children.
Donations can be made at any of the familiar Salvation Army red kettles located throughout Nassau, including kettles placed in the lobbies of both the Sheraton Nassau Beach Resort & Casino and the Wyndham Nassau Resort & Crystal Palace Casino. Donations can be made by cash, cheque or wire transfer.