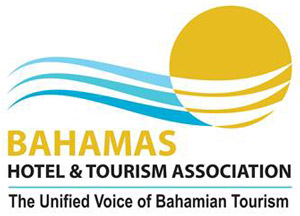 The Bahamas Hotel and Tourism Association (BHTA) unveiled its new logo design at the organization's 60th Annual General Meeting following its recent announcement of the organization's name change from the Bahamas Hotel Association.
The new logo was designed by SIDDA Communications Group Ltd. of Nassau.  It was selected from twenty-two entries, most which were submitted by the organization's allied members.
"Sixty years is a major milestone for our organization.  Changing our organization's name is both symbolic and a reflection of our broadened mandate for the future.  We wanted a logo which would reflect our organizational goals and pass the test of time" states BHTA President Stuart Bowe.
The submissions were reviewed by members last summer and narrowed down to the top six.  The BHTA Executive Committee made the final selection.
Addis Huyler CEO and founder of SIDDA Communications Group Ltd. said he was pleased and proud to have one of his submissions selected to represent the organization.
"We at SIDDA are indeed honoured to have had the opportunity to create a brand that matches the intention and spirit of The BHTA," said Huyler. "We recognise the organization's value to the industry and strove to match its prestige and place in society in our interpretation."
President Bowe expressed appreciation to all the companies and individuals who submitted designs.  "There were a number of excellent designs created, a testimony to the level of talent which is out there.  We are particularly pleased that the winning design was awarded to a young Bahamian businessman.  Addis's company created the design that best captured our spirit and commitment to service now and in the future," he stated.