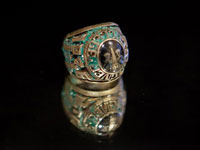 About the time Hurricane Sandy was ravaging Robert De Vincenzi's home on New York's Staten Island, Randy and Linda Wilkinson of Cape Girardeau were enjoying a vacation in the Bahamas.
During a beach stroll on their November honeymoon, the couple found a coral-encrusted ring on the beach. It belonged to De Vincenzi, and the Wilkinsons theorize the storm's massive effect on the ocean could have helped wash the ring ashore.
Regardless of that theory's veracity, the New York man who lost his college class ring in the Bahamas 35 years ago has newlyweds from Cape Girardeau to thank for getting it returned to him. And finding the ring, De Vincenzi said, helped take some of the sting out of losing his home to Sandy's power.
"I bless Randy and Linda Wilkinson for getting my ring back to me," said De Vincenzi during a telephone interview from the New York City borough of Staten Island. "There should be more people like them."
On the newlyweds' beach walk, Randy Wilkinson noticed something out of the ordinary had been washed ashore.
"It stuck out for some reason," Wilkinson said. "I knew it wasn't a shell or a rock. I picked it up and saw it was a ring that was partially green and encrusted in coral. But I could make out, 'Wagner College, Class of 1976.'"
Wilkinson said after he and his wife returned to Cape Girardeau from their honeymoon, he contacted Wagner College, located on Staten Island. He wasn't able to tell them much more than he'd found a Wagner class ring in the Bahamas that was in bad shape. He decided to have the ring cleaned so the identity of its owner could be determined.
"My wife and I took the ring to a jewelry store in Cape to see if they could remove the buildup," Wilkinson said. "The store used acids and other cleaning agents, but they weren't really effective. But they didn't want to give up, and neither did we. Finally they were able to read a name on the inside of the ring."
The name was Robert De Vincenzi.
Armed with the new information, Wilkinson again contacted Wagner College and told them the name of their alumnus who had once possessed the ring. A representative from the college asked Wilkinson to send the ring and they would try to locate De Vincenzi. After several failed attempts they were able to locate him at his place of business last Friday.

By Keith Lewis
Southeast Missourian
For the entire news article, click here.