The Bahamas: Visit Paradise!
April 2, 2013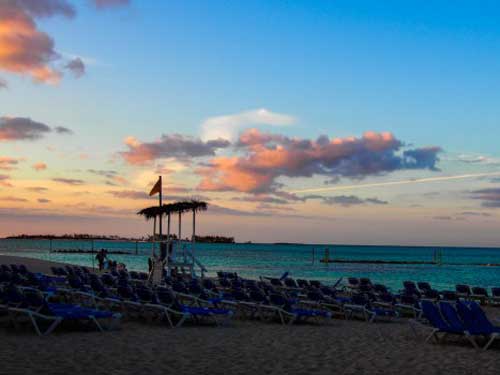 We recently had the chance to visit a group of 3000 islands and cays that were Christopher Columbus' introduction to the New World, the very first place he landed. Formerly a British colony, it's now one of the richest places in the Americas, and a short two-and-a-half hour flight from New York City.
You may guess that it offers some splendid beaches and lovely tropical waters, and you'd be right- but it also offers an interesting history that includes those notorious pirates of the Caribbean. Home to famous folks like Blackbeard, and film site for the James Bond flick Thunderball, it's a safe and decidedly friendly tourist haven.
We'll be highlighting a few of the best spots and experiences we had in this mini Bahamas travel guide, from the aquatic experiences of Atlantis to our time playing with dolphins and sea lions, and our visit to a shipwreck during a snorkeling trip. But before we hit those individually, here are a few highlights from our stay and tips to help you plan. The Bahamas has lots to offer, whether you're going for a few days or a week, for Spring Break or just a quick Caribbean get away.
You'll probably start your trip in Nassau, the capital of The Bahamas and the largest city, on the island of New Providence. The country is home to a bit over 350,000 people, and around 250K of them live in Nassau. There's a few things you'll need to know- Junkanoo is not only the name of a beach but also one of their more unique traditions, a Boxing Day parade and festival. There's conch, which shows up on the coat of arms and any decent Bahamian menu in a few forms- try conch salad and scorched conch, basically a local ceviche.
We stayed at the Sheraton Resort in Nassau, in an area called Cable Beach. That resort, along with the next door Wyndham, are soon to be part of Baha Mar- a construction project that makes most construction sites in Manhattan seem small by comparison. Billing itself as the Bahamian Riviera, it's a 3.5 billion dollar development that opens in December 2014 and and will add 2400 new hotel rooms across five buildings, a chic spa, and a large casino along with a planned convention center and a night club that is supposedly going to be designed in conjunction with Bahamian Lenny Kravitz (perhaps a better fit than the local Baha Men, best known for their hit "Who Let The Dogs Out").
This tension between nature and development is seen everywhere, but we saw some elegant solutions. The local transit system runs on individually-operated "jitneys", with a ride costing $1.25. They come frequently, though not after 7PM or so, and we strongly suggest relying on them during the daytimes instead of paying for the quite costly taxi cabs. Speaking of money, you don't need to worry about exchanging money- the US dollar is kept at parity with the local currency, and is accepted universally and quite conveniently. Credit cards are also widely accepted, though much like anywhere, smaller businesses will require cash.
Cruise ships are the lifeblood of the compact downtown, which generally is open until 5PM or so- until the boats that tower over the city start to depart. Shopping is uneven- the tourist trap straw market offers plenty of gifts, but mostly tchotkes, and boutiques seem pricey and appeared to offer few bargains.
Grab a Kalik instead, one of the excellent local beers, and ruminate on the fact that until this month, there had been no active distillery in The Bahamas for awhile. Opening soon will be John Watling's, located in an historic 1789 estate, and they will be offering tours. While in that neighborhood, you should definitely stop by the Graycliff Hotel, which is far more than it sounds- it's not only a beautiful mansion dating from 1740, but also houses a cigar factory and a chocolate factory, along with a restaurant that operates in the very traditional dining room. The National Art Gallery is also right around the corner.
And while you're at it, no trip to Nassau would be complete without a stop at The Pirates Museum. It's one of the few attractions like it in The Bahamas, family-friendly, educational, and just the right amount of silly thanks to dioramas and the replica of a ship that you walk around inside. Aye, there's a gift shop, but there's also a bar, and admission costs $12 for adults and $6 for kids. Be sure you grab a picture in the replica stockades!
You'll want to visit the now-famous Fish Fry at Arawak Cay, just west of downtown and a quick ride on the Jitney or a nice walk before sunset along the beach. It started with a single shack but has grown into an industry, with various restaurants trying to one up each other for your business. We suggest grabbing a drink at one of them, and trying out dishes at a few others, since each has specialties and prices won't vary much.
Check out Oh Andros and Two Brothers, especially famed for their chefs and island cuisine. In general, food will be an issue- it's  expensive, even outside of your resort areas, so we suggest researching options nearby and asking everyone you can for suggestions. Even a local Thai joint cost more than Manhattan prices, and service will vary widely- be prepared to wait, and wait. Also, tipping is often included by default, so be sure to check your receipt as most restaurants automatically add an 18% gratuity to your bill.
Of course, there are plenty of other things to see and do, many of them on the beaches and in the water. We'll get to our suggestions later this week, and hope you'll get a chance to visit the islands in the future!
By TrulyNet.com