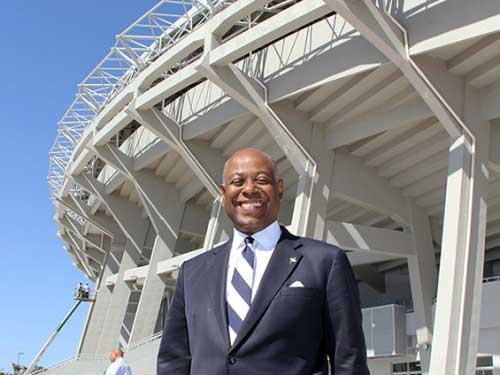 Minister of Tourism Obie Wilchcombe confirmed that hotels in Nassau and Paradise Island are essentially solidly booked over the Easter weekend, signally a continuing strong spring performance for the island's tourism.
Easter is traditionally strong for Nassau and Paradise island hotel occupancies. This year, however, The Bahamas is hosting the Carifta Games for the first time in 12 years, and bookings are especially robust.
"If you try to get a hotel room in the Bahamas right now, especially in Nassau, it is very difficult," Minister Wilchcombe said. "We are showing almost 100 per cent occupancy all over the island. A number of events are happening, not only Carifta, we have an icon of America, her daughter is here and she has brought a number of people with her and there are also a number of events taking place in the Bahamas right now, but, of course, the big one is Carifta.
"We are showing significant signs of growth, but we are concerned that the airline rates are still high. But that's what happens with demand and we all know if the demand is there the rates are going to go up. We are thinking about how we can fix that because we don't want people to go other places, but we feel very good and we want to continue to build and in the next several months we expect continued growth."
The Ministry of Tourism recently announced several high-profile sports tourism events that will take place on Nassau and Paradise Island. The first Pure Silk-Bahamas LPGA Classic will be held in May. The highly anticipated football match between the Premier League's Tottenham Hotspur and Jamaica's national team will be held in the same month.
By Tourism Today