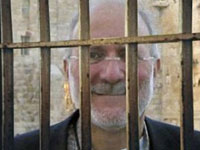 HAVANA, Cuba — Cuba has rejected what it described as manipulations by the US government with regard to the case of US citizen Allan Gross, 63, who was convicted and imprisoned in Cuba three years ago for trying to subvert the government after he was arrested for bringing banned satellite communications equipment into the country.
Over the last few days, statements and reports by Washington officials in relation to Gross have intensified, particularly on the reported deterioration of his health, Josefina Vidal, the Cuban Foreign Ministry's Director for US Affairs, said in Havana.
The official claimed that the US government is lying to public opinion once again, by asserting that Gross has cancer and is not receiving adequate medical care.
These lies have not stopped, continued Vidal, even after the results of the biopsy to the lesion on his back were sent to his family and US authorities, which leave no doubt that it is not cancer, said the official at a press conference.
Vidal also claimed that Washington is lying about Gross's prison conditions and his regime of phone calls and visits.
The Director for US Affairs stated that Washington has never taken Gross's case seriously, and has just reiterated the unsustainable stance that it has nothing to negotiate with Cuba to find a solution.
By Caribbean News Now contributor