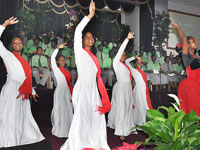 Scores of enthusiastic students engaged their musical, dance and vocal talents to usher in the Christmas season in grand style during the "Festival of Carols" held at Golden Gates World Outreach Ministries, Carmichael Road on Wednesday, 5th December, 2012.  This year's theme was "Jesus – A Gift for All Times" This event, hosted annually by the Ministry of Education, Science and Technology, was well attended by students and teachers from both public and private schools.
The programme was ably moderated by Miss Edline Major and Mr. Petron Brown, students of C.H. Reeves Junior High School and Doris Johnson Senior High School, respectively. Among the scripture readers was Miss Nadia Smith, the National Teacher of the Year, 2012-2014.
The astounding musical performances included a hand bell selection by a combined high school group, a recorder selection by two students of the Salvation School for the Blind, a band selection by Doris Johnson Sr. High School, a steel band selection by Uriah McPhee Primary School, and a wind instrument quintet selection by Government High School students. The tradition of Christmas caroling took on a Caribbean flavor as students of Yellow Elder Primary School presented a "Caribbean Christmas Medley", complete with their own rake and scrape band and wordless skit. Choirs and dance troupes from several other schools also added to the celebratory atmosphere.  Later, the audience rose to its feet to join in with the St. John's High School choir as they sang "What a Wonderful Child".
The Reverend Arlington Rahming, Senior Pastor of Christian Discipleship Ministries International, in bringing Christmas greetings, stated that "Not often enough do we stop and reflect on the real reason for this celebration." He reminded everyone present that everything that is good cannot fit into a (Christmas) box. He asked the audience to think about two questions: "How are we affected by the gift in the box?" and "How are we affected by the gift that does not fit into the box?"  He then submitted that the gift in the box does not last and encouraged his listeners to be of help to people who are less fortunate than themselves.
Mr. Lionel Sands, Director of Education brought Christmas greetings on behalf of The Honourable Jerome Fitzgerald, Minister of Education, Science and Technology. He acknowledged the talent of the young participants and the creativity of the teachers and administrators who had organized the festival.
Mr. Sands offered words of wisdom to the students to remember as they focus on gifts and giving this Christmas season.  He said "Times change, styles change, attitudes and tastes change, History and Mathematics books change.  Nearly everything we know changes, but Jesus Christ is God's unchanging and greatest gift.  He is a gift that will last for eternity." Mr. Sands also reminded the students to "be guided now and in the future to continue to use the gifts with which God has endowed us for the ultimate good, the advancement, betterment and creation of a beautiful Bahamas."   He closed by wishing those present a merry Christmas.