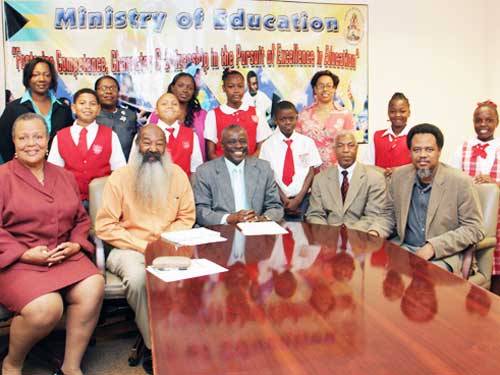 Tavares Strachan's most recent exhibition project, Polar Eclipse, will be presented in the inaugural pavilion of The Bahamas at the 55th International Venice Biennale in 2013. Conceived as both a site-specific installation and a collection of individual works, including video, sculpture, and collage, the exhibition investigates themes of heroic exploration, cultural and physical displacement, oral history, and the evolution of historic narratives.
Strachan's recent trip to the North Pole is the subject of a 14-channel video installation, which places the viewer at the center of Strachan's reenactment of a historic journey: the 1909 polar expedition of Robert Peary and Matthew Alexander Henson. Henson, Peary's associate, is often credited as the first American to reach the pole. However, various written and oral iterations of that journey—whether Henson reached the Pole before the physically incapacitated Peary, whether Henson planted the American flag, and their complex relationship to one another and to Inuit communities—remain fluid and contested, reflective of shifting cultural ideologies and allegiances.
40 Days and 40 Nights (2013) takes up the lingering Biennale model of nationally-defined pavilions, creating a culturally hybrid space at the Arsenale in the fortieth year of Bahamian independence. Strachan arranged for forty schoolchildren in Nassau to learn a song from a rapidly vanishing Inupiaq folk tradition called ayaya, then brought them to Venice to perform it. Among Inuit, ayaya is both a fundamental means of individual expression and a process of intergenerational bonding. In the ostensibly transnational space of the Arsenale, the song is both evidence of meaningful exchange between liminal communities, and a signifier of the cultural displacement that makes such exchanges possible. Virtually untranslatable, the song operates outside the much-touted "internationalism" of the global art world.
"I'm fascinated by the idea of being in two or more places at once, and exploring difference that way," says Strachan. "The way that the Venice Biennale, historically and now, deploys the idea of "difference" as cultural tourism is an interesting problem to work with."
Here and Now (2013), a group of neon sculptures which read I Belong Here, You Belong Here, We Belong Here, opens the exhibition, further addressing themes of place and identification. Other works installed within the pavilion–a sculpture of a levitating Inuit figure, large-scale collages of Arctic wildlife–play specific roles in Strachan's larger project of exploring nuanced, often-invisible shifts in cultures, physical environments, and recounted histories over both space and time, in the wake of globalization and narratives of progress. Having lived and worked in the Bahamas for much of his life, these issues are reflective of Strachan's biography and emigrant experience.
Strachan, born in Nassau, Bahamas in 1979, now lives in New York City. He received a BFA from the Rhode Island School of Design in 2003 and an MFA from Yale University in 2006. Strachan may be best known for his internationally celebrated 2006 piece titled The Distance Between What We Have and What We Want, consisting of a 4.5-ton block of ice harvested in a river near Mount McKinley, Alaska. The ice was then sent via Federal Express to a primary school in The Bahamas, where solar power was used to keep it frozen.
Many of Strachan's works investigate the ability of life to acclimatize to radically inhospitable environments. His research has extended to hands-on training at the Yuri Gagarin Russian State Science Research Cosmonaut Training Center in Star City, Russia, as well as a residency at the Massachusetts Institute of Technology, where he worked with some of this institution's cutting- edge scientists. Strachan's scientific explorations are tied to his establishment of the nascent Bahamas Aerospace and Sea Exploration Center (BASEC) in his native Nassau. In the course of working with BASEC, Strachan has made several rockets wholly from Bahamian natural resources (glass from beach sand, and fuel from sugarcane) and launched them 15 to 20 miles into the earth's stratosphere, before collecting and presenting their fallen remnants as sculptural relics.
The Bahamas Pavilion is curated by Jean Crutchfield and Robert Hobbs, with deputy curator Stamatina Gregory. Major support is granted by Nalini Bethel of The Bahamas Ministry of Tourism. Produced by Christopher Hoover, Michael Hall, and Christophe Thompson, and Venice producer Fiona Biggiero.
By Tourism Today