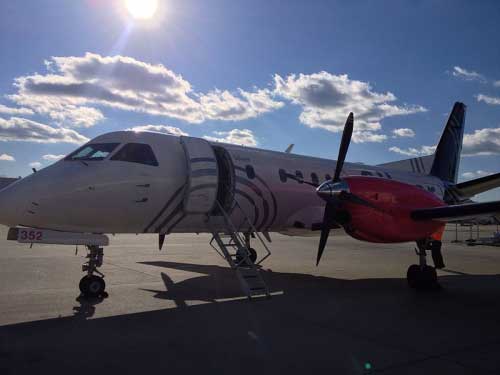 A weekly flight from Jackonsville (JAX) to Marsh Harbour (MHH) will launch on June 15.
The service will operate on Saturdays, leaving Jacksonville at 10.31am to land in the Bahamas at 12.16pm.
From Marsh Harbour, the flight takes off at 12.46pm to touch down at 2.54pm.
Dave Pflieger, president and CEO of Silver Airways, said: "As Florida's hometown airline and the largest US carrier to the Bahamas, we're pleased to create a direct link to the incredible vacation product in Marsh Harbour for the travelling public in Jacksonville and its surrounding communities".
Jacksonville International Airport has struggled to attract scheduled international routes, although JetBlue flies to the US commonwealth of Puerto Rico.
Silver Airways has operated in Jacksonville since August 2012 under a codeshare with United Airlines, offering a direct flight to Tampa with a 34-seat Saab 340Bplus.
But on June 8, Silver will begin operating under its own reservation system as an independent airline.
Steve Grossman, Jacksonville Aviation Authority (JAA) executive director/CEO, said travellers will notice Silver's increased presence at the terminal.
"A ticket counter, gate space and additional aircraft at the terminal will make Silver's unique branding difficult to miss," he said.
Marsh Harbour already features on Silver's route map with flights from Fort Lauderdale, West Palm Beach and Orlando under its codeshare with United.
American Airlines operates a Miami–Marsh Harbour service, while SkyBahamas operates flights to Fort Lauderdale and Bahamasair flies to West Palm Beach.
Silver Airways is one of the 12 regional airlines that provide the United Express service, which feeds United Airlines with short- and medium-haul flights, with hubs at Cleveland Hopkins, Fort Lauderdale, Tampa International and Washington Dulles.
With its headquarters at Fort Lauderdale, the carrier also operates as Silver Airways with flights to 16 US cities from hubs at Hartsfield-Jackson Atlanta International Airport and Billings Logan International Airport.
Also from Jacksonville, but from Jacksonville Executive Airport at Craig Field (CRG), Craig Air Center offers charter flights to Marsh Harbour.
By Piers Evans
Routes News