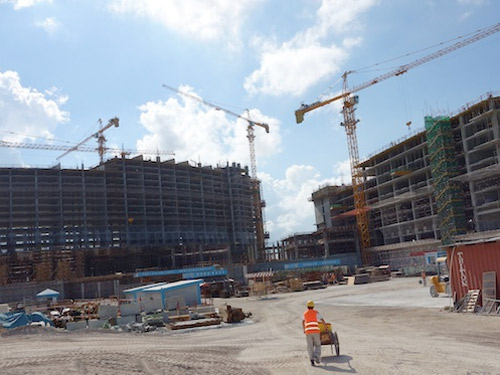 NASSAU —The Baha Mar resort project, the largest in the Caribbean, is moving forward with construction toward a planned December 2014 completion date.
The multi-billion-dollar Baha Mar, which is being financed by the Export-Import Bank of China, is currently being built by a several-thousand-strong force of workers from China. It launched construction in 2011.
"We see ourselves as positioning it as an international brand – so we're not just looking at Caribbean competition, but offering it as the best on an international basis," Robert Sands, senior vice president for external affairs at Baha Mar, told Caribbean Journal.
The project, which has dubbed itself the "Bahamian Riviera," will ultimately offer around 2,200 hotel and residential units spread across four resorts; one, the Baha Mar Casino & Hotel, along with three from major international brands Mondrian, Grand Hyatt and Rosewood.