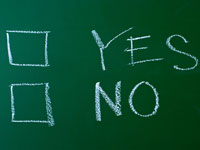 Members of the Save Our Bahamas Committee yesterday called the Vote Yes Committee's promise of a public share offering if web shop gaming is legalized a "shameless ploy designed to buy votes".
The Vote Yes campaign recently said that web shops would offer shares similar to the model used in the Arawak Cay Port initial public offering if the outcome of the January 28 gambling referendum is positive.
However, Bahamas Christian Council President Reverend Dr. Ranford Patterson expressed surprise that the web shop operators have been allowed to make such a declaration.
Patterson said that web shops should be shut down entirely, but since the government has failed to do that, it should control what the web shops are offering as the poll approaches.
"In my opinion, the web shops should not be making that kind of inducement and I've called on the powers that be to step in and stop this madness," Patterson said.
"We cannot try to induce people to vote for us. I think we ought to present the issues and allow people to make decisions based on the issues rather than inducements.
"I mean, you give away house, you give away money, you give away cars. What else are you going to give away to induce people to vote yes?"
Save Our Bahamas Committee member Kevin Harris said he was appalled at the suggestion that Bahamians are being offered future ownership in a currently illegal exercise.
"I think if a drug dealer was to come on television or go to the newspaper and say, 'Listen, I'm thinking of opening 100 marijuana shops, and I'd like to offer the Bahamian people an opportunity to get an early piece of the pie by offering shares in that business', we'd be outraged as a country," he said.
Patterson also questioned why the government has been reluctant to close web shops prior to the poll.
Minister of Tourism Obie Wilchcombe has said that if Bahamians vote yes for the regulation and taxation of web shop gaming, all web shops would need to be shut down for 30 to 90 days in order to restart the reformed industry.
Patterson questioned why the government needs to wait until after the vote. "If it can be shut down after [a yes vote], why can't it be shut down now?" he asked. "What's going to happen to the workers within those 90 days? We're talking about less than two weeks.
"What's coming to those workers in 90 days if this is a yes vote? Are you saying that all of a sudden a miracle is going to happen and all of the problems that you see now will not be a problem later? It just doesn't make sense."
By Royston Jones, Jr.
Guardian Staff Reporter