Crown Withdraws Gun Case Against AG's Former Clients
January 2, 2013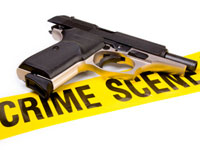 In compliance with a directive from the acting attorney general, a magistrate on Friday discharged the case against a couple who allegedly had a loaded gun in their home.
The defendants, George and Janice Hayes, were represented by Allyson Maynard-Gibson until her appointment as attorney general in May.
Deputy director of public prosecutions Garvin Gaskin presented the directive signed by Acting Attorney General Jerome Fitzgerald to Deputy Chief Magistrate Carolita Bethell ordering the discontinuation of the case against the accused on Friday.
Police carried out a search warrant on the couple's home on February 3, 2010. According to the evidence, Mr. Hayes showed the officers where the .380 pistol and 19 rounds of ammunition for the gun were hidden in a bureau drawer.
The Criminal Procedure Code gives the attorney general the power to halt proceedings at any stage of a trial before a verdict is rendered.
In the Hayes' case, their lawyer, Tonique Lewis, was scheduled to make closing addresses when the trial was stopped.
The attorney general first sought to drop the charges on December 21, but the magistrate did not accept the directive because it was undated. The order presented on December 28 was dated November 28.
Bethell warned the Hayes that the discharge did not serve as an acquittal and there was a possibility that the case could be tried on the same facts. Owing to this option, Bethell did not order the confiscation of the exhibits in the case.
By Artesia Davis
Guardian Senior Reporter