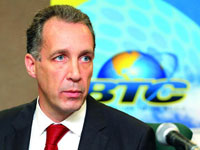 Bahamas Telecommunications Company (BTC) CEO Geoff Houston said today he expects BTC service to improve strongly in 2013 as the Company's new and upgraded, nation-wide telecommunications infrastructure is completed replacing the 30-year-old obsolete system.
"We accomplished a great deal in 2012 in upgrading a network which was more than 30 years old in some places. But the high demand by customers for the new services we introduced, like mobile data, was so great that our networks sometimes struggled to keep up. I'm determined we'll do better for customers in 2013," said the CEO.
BTC upgraded it mobile network from 2G (second generation) to 4G (fourth generation) technology, rolling out new networks across The Bahamas over the last 18 months. Prior to 4G, data was only provided on an older 2G network and was running at around 3.5GByte per day. Since the replacement with the brand new 2G with Ericsson this has risen to around 150GByte per day – an increase of 4,285%. 4G is carrying approximately 1TByte of data a day from a zero start at installation. Overall BTC has seen an increase of 28,751% in mobile data since the launch of 4G in December 2012.
The upgrade enabled BTC to introduce vastly improved mobile data services through leading edge mobile handsets like the Samsung Galaxy III. Voice and SMS traffic have also risen following price reductions. BTC also upgraded its fixed-line network to new next-generation technology, which enabled the launch of a new high-speed (8Mb) home broadband service.
In December CEO Geoff Houston announced that the initial phase of the mobile network build-out was substantially complete, bringing The Bahamas on par with other twenty-first century countries enjoying modern mobile technology. He said at the time that the country-wide roll-out of a brand new 2G and a brand new 4G network followed 18 months of a painstaking programme of upgrades, replacements, modernization and expansion to an existing but restricted system"We upgraded to a totally new telecommunications platform for text and mobile, keeping the old system running for continuing service. The existing network was very antiquated and fragile in many areas so we pushed hard on rolling out the new faster network.
"What we accomplished in 18 months would, under normal circumstances, take four to five years to complete. It was a bit like performing open-heart surgery while the patient was walking around. With the increase in demand for services the patient had a lot of pressure on it, and that led to disruption – we sincerely apologise to our customers for this. However, we do expect service across the board to improve over the coming first few months of 2013," said Houston.
"We want stability before we launch our next product, Long Term Evolution (LTE,) – the fastest mobile data service available in the world today. LTE will deliver 4G service up to 10 times faster, and give The Bahamas the fastest internet in the region."
Addressing the island-wide outage in June and the Utilities Regulation & Competition Authority's (URCA) communications on the matter, the CEO said BTC was working with URCA to improve processes and reporting systems.
"We will work with URCA on how we can solve this problem together." said Houston. "We share the same objectives and that is a solid network for The Bahamas. URCA understands the day-to-day frustrations we face in the overhaul and upgrade of an inherited obsolete system with a legacy of long standing problems. Equally, we understand its position and we are working together to bring about our joint objectives."
Mr. Houston continued: "BTC is committed to a programme of investment of more than $100 million in upgrading its infrastructure, which will reposition the Bahamas to take advantage of the explosion in data. As more communications become mobile and internet based, BTC aims to have the most advanced network in the region."