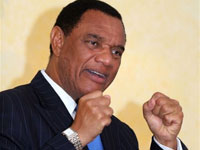 Prime Minister Perry Christie has fired National Insurance Board (NIB) Chairman Gregory Moss, the government announced tonight.
"It is announced for general information that the appointment of Gregory K. Moss, M.P. as chairman of the National Insurance Board has been revoked with immediate effect," said a statement from Minister of Labour and National Insurance Shane Gibson. "An announcement concerning the new chairman of the National Insurance Board will be made very shortly."
The Guardian understands that Moss received a letter from Prime Minister Perry Christie around 10 a.m. today asking Moss to resign immediately or face other consequences.
In Christie's letter to Moss, the prime minister expressed disappointment in how Moss reacted to statements made by the Prime Minister on Boxing Day, a well-placed source told The Guardian as events unfolded this afternoon.
Among other things, Christie said during the holiday interview that Moss was no longer in possession of his NIB-issued corporate Visa platinum credit card.
Moss responded by saying Christie had told an untruth.
The source said Christie felt that before sending out a lengthy press release on Tuesday night, Moss should have at least contacted him and raised the issues on a personal level.
The letter requesting Moss' resignation reportedly read that one phone call between the prime minister and Moss could have sorted all of the issues out.
In response to Christie today, Moss reportedly said he was sorry that the Prime Minister took the comments in his release the way he did.
Moss' letter indicated that he would not resign as it gives the impression that he did something wrong. As a result, he said he would await his termination letter.
The source said Moss noted in his response that he still supported Christie and the party and would continue to do so in the future.
By Travis Cartwright-Carroll
Guardian Staff Reporter