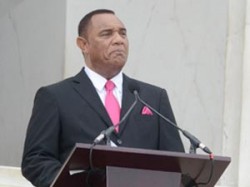 Web shop owners, long pushing for their operations to be regularized, have Central Bank Governor Wendy Craigg to thank for making Prime Minister Perry Christie aware that due to certain concerns relative to the development of an underground banking sector the government needs to act once and for all on this matter.
At least that is the explanation we have repeatedly gotten from the prime minister on why he decided to ignore the results of the January 2013 gambling referendum.
But the explanation does not appear to be reasonable.
While the prime minister recently expressed concerns about the damage an unregulated sector could do to the country's reputation as a financial services jurisdiction that adheres to internationally-recognized standards, a simple search of comments he made prior to the referendum reminded us that he had always been cognizant of those concerns.
———-
It is clear to reasonably-minded observers that the government, despite its persistent claim that it had no horse in the referendum race — always desired a certain outcome in the referendum.
When it did not get that outcome it desired it needed to find an explanation to justify breaching the public's trust.
Pointing to comments reportedly made by The Central Bank governor after the referendum on the very matters the prime minister already stated publicly again underscores poor planning and a bad gamble on Christie's part.
Click here to read the complete article by Candia Dames at www.thenassauguardian.com