Scores of executives and professionals were on hand for the official launch of Sterling Bahamas Realty Limited (SBR) Thursday at a posh $6.5 million Ocean Club Estates residence that's fresh on the market and listed exclusively by the young firm.
The official launch did double duty as an open house designed to get the word out about the lavish two-story estate home nestled on a lake, situated on the first fairway of the second hole of the gated community's 18-hole par 72 championship golf course designed by Tom Weiskopf.
The Paradise Island open house provided an opportunity to market the home directly to potential buyers and also gets the word out via the attendees and their networks about the real estate firm and its high-end listings, said Sterling Bahamas Realty owner, Lamond Davis.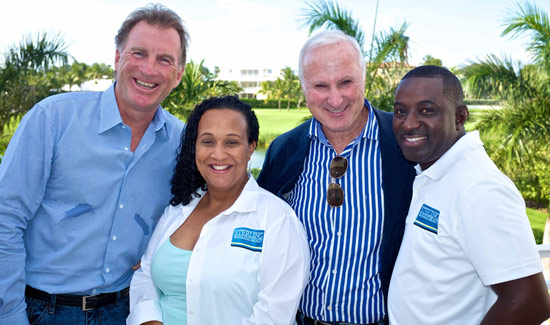 "Even if they weren't interested in buying a home they have clients and other persons who they interact with who could afford this type of property," broker Paul Lowe explained. "The idea is they see it, fall in love with it and they get the word out about it."
According to Davis, that formula has worked in previous homes they have had listed.
"We believe it's a recipe for success," he said.
SBR is a full service boutique real estate agency specializing in residential and commercial sales and rentals, property management, vacation and yacht rentals, along with dock slip sales and rentals.
Dynamic husband-and-wife duo, Lamond and Robyn Davis, aligned with Sterling Financial Group Inc. (SFGI) to offer unique synergies resulting in a seamless blend of real estate services, particularly for international buyers. With the financial group onboard as an advisor, SBR is able to function as a one stop shop for Bahamians and international investors alike.
The real estate firm refers its clients to SFGI for key services such as mortgage lending, project management and development, corporate representation and even investment management services.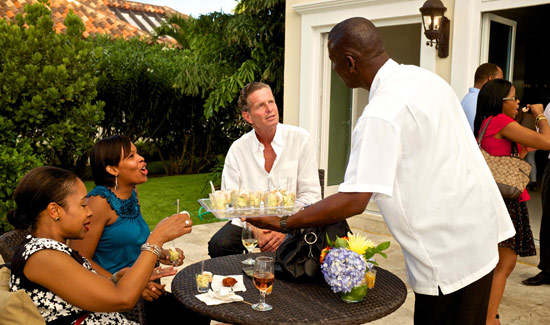 On Thursday scores of prominent Bahamians toured the 9,814 square foot home and grounds featuring lush landscaping, a heated pool and covered verandas.
"I think it's a lovely piece of property. It's indicative of the opulence that you would find on Ocean Club," says Minister of State for Investments, Khaalis Rolle.
Noting that the husband and wife team are "consummate professionals" with a history in luxury real estate, Mr Rolle predicted the couple are going to do "extremely well."
A partner in Halsbury Chambers, the attorney said she has potential clients who might be interested in the five bedrooms, five and a half bath home.
"It's a great investment if one can afford it," said Ms Greene.
Rogan Smith, host of the popular morning show Bahamas at Sunrise, also left impressed with the property.
"It had tremendous curb appeal. The interior was light and airy. I could really envision myself living in the space and throwing a fun garden party outside. I didn't want to leave," she said, noting such luxurious features as the home's stainless steel cabinets, natural stone counter tops and honed limestone tiles.
"It seems Sterling Bahamas Realty really put a lot of thought into the opening and ensuring that guests had an interactive experience. I don't believe they'll have a problem selling the property as the interior was very modern and the outdoor views were spectacular. They've set the bar high for the next showing."
Since opening for business in February 2014, SBR has already delivered for its clients, securing sales for two Grand Bahama luxury homes, one of which is a unique boathouse with a million dollar town home on the canal.
SBR also has sales pending on a vacant lot in the exclusive Ocean Club Estates and two luxurious beach house villas located on the western end of Paradise Island.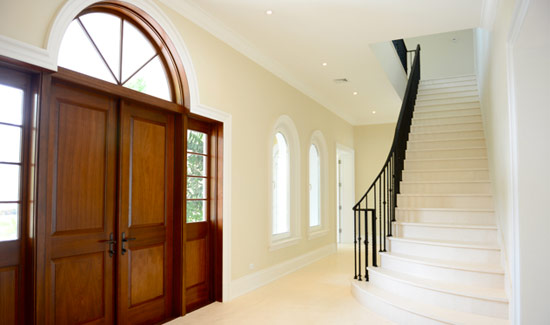 One client, the firm has delivered for is Marvin Bain. He decided to list with Sterling Bahamas Realty because of the relationship he enjoyed with Mr Davis before he struck out on his own.
"He was always personable and professional. He always had time for his clients so we felt that was the perfect combination for us. He certainly became more than a realtor for us. He became a friend of ours," said Mr Bain.
The Bains had a home on the eastern end of the island that Mr Davis assisted them with selling. Following the sale, the couple purchased a piece of property in a gated community out west which Mr Davis was also instrumental in helping them to purchase.
"Presently, we're building a townhouse unit in that gated community and even before it was finished, Lamond was able to secure a buyer for us. So you can see he is a mover and shaker in this industry and we felt that he is definitely the one to go with," said Mr Bain.
According to Mr Davis, the open house provided an opportunity for persons to see the inside of the home in a manner they could appreciate far more than clicking through photos online or looking at a slick ad.
"While others realtors might not host an open house on this scale, it pays off for us," he said.
Precision Media
Captions:
Top: The $6.5 million Ocean Club Estates residence that's fresh on the market and listed exclusively by Sterling Bahamas Realty.
Partners in Sterling Financial Group Inc. pose with owners of Sterling Bahamas Realty. From left to right, Stephen Tiller, Robyn Davis, David Kasoy and Lamond Davis.
Guests enjoy themselves at the Ocean Club Estates open house hosted by Sterling Bahamas Realty.
Entryway and staircase.