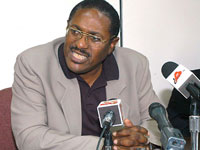 The current level of crime, carnage and disregard for human life shows a lack of respect for the "precious and hard fought freedoms" won during the majority rule era, PLP chairman Bradley Roberts said yesterday.
He was speaking on the importance of majority rule at a special church service at Living Waters Kingdom Ministries, where he also voiced his support of Prime Minister Perry Christie's pledge to establish January 10 as a national holiday.
"This singular event in Bahamian history played a significant role in shaping the modern Bahamas we experience and live in today," Mr Roberts said.
"The significant events leading up to and emanating from majority rule must become permanently etched in the Bahamian historical landscape as these events collectively define us as a people, reveal what we believe in as Bahamians, and serve as constant reminders of our vision and values."
Echoing the Prime Minister's comments, Mr Roberts said it is "widely believed" that aside from emancipation from slavery in 1834 and independence in 1973, there is "no event of more consequence and historical importance" in Bahamian history.
"I am pleased that today there appears to be bipartisan support for this day to take its rightful place in the annals of Bahamian history. The Progressive Liberal Party fully supports the proposal advanced by the Prime Minister that January 10 should be observed as a national holiday. This day must be recognised as a major victory for justice, equality, freedom and human dignity," he said.
However, the party chairman added that it pains him to witness the "careless, reckless and wanton disregard that too many of our people, especially by a number of our young black men, have for these precious and hard fought freedoms.
"The level of crime, carnage and general disregard for human life and personal property are clear evidences of their unwillingness to accept responsibility for these priceless gifts," Mr Roberts said.
"Gifts such as freedom, self-determination and the opportunity for real democracy to come to the Bahamas, underpinned by equality, tolerance, economic justice, social justice – all important elements in the creation of a free, modern, democratic state. You cannot put a price on these gifts and make no mistake about it – with freedom and opportunity come great responsibility."
Majority rule ushered in the opportunity for Bahamians to have constitutional, political, social, cultural and economic rights, he said, adding that it is the "responsibility of every Bahamian" to contribute to the development of the country's democracy.
By Dana Smith
Tribune Staff Reporter