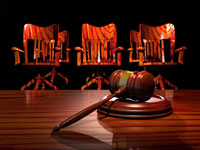 Former Chief Justice Sir Burton Hall wants the trial by jury concept in The Bahamas reviewed.
"The observations that I make about the jury system is that it is inefficient both in terms of time and in terms of money," he told the Constitution Review Committee.
Currently a judge at the United Nations Criminal Tribunal for the former Yugoslavia, Sir Burton was one of three persons appearing before the Commission on Friday. He spoke on:
* The restructuring of the judicature;
* The removal of the fetter on Parliament's ability to alter the principle of trial by jury in serious criminal matters; and,
* The revision of the canon of justiciable rights particularly as encapsulated in the International Covenant on Economic Social and Cultural Rights which The Bahamas signed and ratified in December 2008.
The Constitution Reform Commission is headed by Sean McWeeney, QC. Members are Carl Bethel, Rubie Nottage, Mark Wilson, Lester Mortimer, Tara Cooper-Burnside, Michael Stevenson, Professor Dr Lydia Saunders, Michael Albury, Chandra Sands, Brandis Duncanson, Carla Brown-Roker, Lauren Klein.
Former permanent secretary Thelma Beneby is secretary to the Commission.
She is assisted by Annie Lloyd, Darron Henfield, Sonobia Smith, and Veronica Frazer.
The Commission has been mandated to present its recommendations for constitutional reform no later than March 31.
Sir Burton said after he began work at the International Criminal Court, where they sit without a jury, it occurred to him that "something has to be wrong about the most serious criminal charges being determined by a body who gives no reasons.
"Every other level of judicial work requires the decision-making body to give reasons which can then be reviewed by an appellate court or considered by the public at large.
"The notion that a jury can make a decision and give no reasons for it at all strikes me as being, at this point in world development, odd, to use as mild a term as possible."
Concerning restructuring of the judicature, he noted "the anomalous relationship between the Court of Appeal and the Supreme Court."
The Bahamas had followed the amalgamation of the courts of England into one court of judicature called the Supreme Court which gathered all the separate courts that existed, he explained.
"But the word 'supreme' has developed a different meaning over time and the fact that you have a Supreme Court and appeals lying to a Court of Appeal which under our Constitution is separated in every sense," he said.
"It is an anomaly which should be addressed."
Sir Burton pointed to debate that if everybody, from the Privy council to Administrator sitting in a Family Island have to act judicially, why is it that the constitutional guarantees in terms of what the Constitution describes as the judicature, apply to only the Court of Appeal and the Supreme Court.
"Shouldn't everybody, certainly within the geographical confines of the Bahamas, who exercises judicial authority, be embraced within the concept of the judicature and be afforded…the protections and guarantees which the present chapter dealing with the judicature does?"