After Suspect Dies In Custody, Residents Demand Justice
February 13, 2013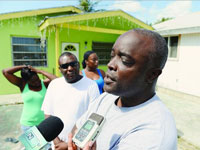 A group of concerned residents of Nassau Village yesterday voiced suspicion over the circumstances surrounding the sudden death of Jamie Smith, who died while in police custody over the weekend.
The residents of Samson Street came together to express outrage.
They are demanding answers from the police, adding that the brief explanation that was provided was unacceptable.
Smith, 33, who initially identified himself to police as Matthew Jacob Pratt, was an armed robbery suspect.
He died at the Central Detective Unit (CDU) around 4 p.m. on Friday. The residents claim he had been taken into custody just hours earlier.
Everette Pennerman, one of Smith's neighbors, recalled the night police came for him. He said officers came to his door around 2 a.m. and woke up everyone in his house.
Pennerman said the police arrested one of his cousins and Smith who had fallen asleep in one of the cars parked in front of his house.
"They took him out of the car, put him in handcuffs and hours later they said he died," Pennerman said. "They said he had a seizure or heart attack. But he had no known health problems. He was a healthy man."
He said police came back to the house on Saturday evening to deliver the news that Smith had died in custody.
Pennerman said he had the hard task of notifying Smith's mother, who lives in the United States with Smith's two kids.
He said most of Smith's family lives in the U.S. He said the residents in the area have become family to Smith.
Yacantha Miller, another Samson Street resident, said police need to provide all of the details on what happened to Smith from the second he was taken into custody.
She called on Commissioner of Police Ellison Greenslade to look into the matter personally. But she also said there needs to be an independent investigation. "Who's going to police the police?" she asked. Shekera Pennerman, another resident, said she also wants to see justice done.
The residents described Smith as a quiet and helpful man.
In an unrelated matter, housebreaking suspect Aaron Rolle, 20, a resident of Ross Corner, died at the Quakoo Street Police Station early Saturday morning.
There is no information on how the men died. Police said the matters have been forwarded to the Coroner's Court.
By Krystel Rolle
Guardian Staff Reporter