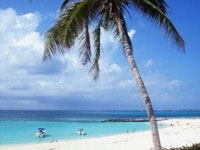 The Bahamas' government is expecting to see a 5-6% rise in tourist arrivals this year, after recording a similar increase in 2012.
This puts the island chain on target to attract more than 6m visitors in 2013, up from around 5.8m last year, Tribune 242 reports.
'Things are looking better in the US economy, so that's a good sign,' the Ministry of Tourism's senior director of research and statistics Gary Young told the news provider. 'The numbers are looking strong.'
As well as plenty of sunshine and sandy beaches, those staying at cheap hotels on one of the country's 3,000 islands can enjoy a wide range of attractions.
These include a snorkelling trip to Thunderball Grotto, named after the James Bond movie that was filmed in the Bahamas, a visit to the Atlantis Aquarium in Nassau and enjoy the view from the top of Hope Town Lighthouse on Great Abaco Island.
Source: Opodo Travel News