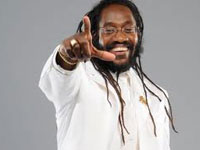 More than 100 people are expected to be temporarily employed as a result of the All About Love Concert featuring Tarrus Riley scheduled for today at The Grand Bahama Sports Complex, Freeport.
"In addition to the economics, New Era Entertainment seeks to offer a comfortable, safe and on time affair for those mature music lovers who have become discouraged and turned off by local late night entertainment," said public relations consultant Peter Adderley of Creative Works.
"This pre-Valentine extravaganza promotes love throughout our communities, and it is so fitting that the urban renewal program is partnering with the organizers of this concert. As we celebrate our nation's 40th anniversary of independence, Bahamian music sensations Jah Hem, Sammi Starr and Dano Rolle will no doubt make us all proud when they hit the stage on Saturday night.
"We cannot continue to complain about unemployment, but rather create avenues to improve our people's quality of life. The principals of New Era Entertainment are to be commended for presenting such a great show and providing significant temporary employment for Bahamians."
By The Nassau Guardian