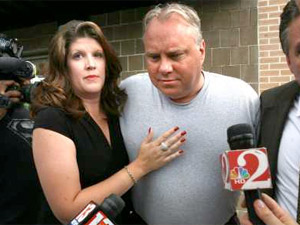 They headed for Marsh Harbour Airport in the Bahamas, most of them on private planes owned by billionaire Harry Sargeant III, then the finance chairman of the Florida Republican Party.
The weekend trip began on Friday Jan. 11, 2008, for a select group of Floridians —maybe 20 or so — who helped raise money for a constitutional amendment that would increase homestead exemptions.
Those who attended have differing memories of how many were there or what occurred, and no one is very anxious to talk to a reporter about the gathering.
Perhaps it's the accusation of a golf cart filled with prostitutes that scares them away.
The five-year-old gathering has gained a life of its own in the criminal case against former Florida GOP chairman Jim Greer, who has been charged with money laundering and grand theft for allegedly diverting about $200,000 in party funds to a corporation he created. The trip itself isn't tied to Greer's legal problems, but details of the weekend could surface in testimony at his trial, which begins with jury selection Monday in Orlando, or remain secret, depending on which lawyers win out.
Crist, former House Speaker Dean Cannon, former Senate President Mike Haridopolos, former U.S. Sen. George LeMieux, state Sen. John Thrasher, R-St. Augustine and a long list of other GOP notables are expected to be among the witnesses. Crist, Sargeant, Greer and Johnson were among the witnesses who made the Bahamas trip.