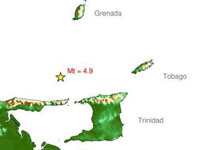 On Sunday, February 10, 2013 at 1:27am local time an earthquake occurred north of the Paria Peninsula, Trinidad, with an epicentre 89 kilometres (51 miles) northwest of Port of Spain.
According to preliminary reports from the Seismic Research Centre at the University of the West Indies in St Augustine, Trinidad, the magnitude of the quake was 4.9 and the depth 110km.
Corresponding data from the United States Geological Survey (USGS) indicated a magnitude of 5.0 and a depth of 94 kilometres.
There were reports of minor shaking in St George's, St David's and St Andrew in Grenada, and Glencoe, Trinidad.
No damage or injuries were reported.
By Caribbean News Now Contributor