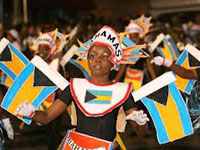 While the official results of Junior Junkanoo Parade held on Saturday are yet unknown, National Co-ordinator for Junior Junkanoo, Percy Vola Francis said, he is pleased with the development of the Junior parade in Grand Bahama.
"Over the 14 year period, I've seen a tremendous improvement in costume design, theme selection, the social interaction, the camaraderie of schools. It identifies that this program is a healer, a means by which if there is a turf war or disturbance or rivalry, it seems that Junkanoo is a soother.
"We see that on parade when all the schools come together and there is a lovely coming together and that makes me feel good," said Francis.
However, Francis said, what he is concerned about is the fact that these parades generate no revenue.
He noted that at the end of the day, what's needed is a purse in the moving forward of the program, instead of relying on numbers and all the people to come in to do what is necessary.
"Yes, we need sponsorship, sure, but these parades need to start paying for themselves. That concerns me.
"Another thing that concerns me is the fact that at the end of the day, the art form of Junkanoo has to be in the school program. I don't care what anyone says or thinks, I don't care what the Ministry of Education thinks, I don't care what the teachers think, I don't care what the Ministers think, I am telling you this that Trinidad and Tobago has used Carnival in Trinidad to train their people," stated Francis.
"They incorporated it into the classroom and let me tell you there has been much improvement in the numbers and in the grades."
Francis said that Junior Junkanoo can be used as a yardstick.
"We talk about the grades, they go up; the appearance of the students – rather than the boys balling their pants up and putting it in their socks, and being shabby (there can be a rule), if you can't come to school looking decent, you can't be in this parade; if you don't improve in your grades, you can't be in this parade; if you continue coming to school late, you can't be a part of this parade.
"And guess what, they will feel dead bad because they want to be a part of this thing and they would improve to do so."
Francis said that this is just the basic stuff that Junkanoo can do for the students.
He went on to talk about the creative part of it which he said is a lesson all in itself.
By Yasmin Popescu
Freeport News Reporter
Editor's Note: Mr. Francis was recently photographed as part of the Bahamian Project. You can learn more about his portrait sitting and the project by clicking here.