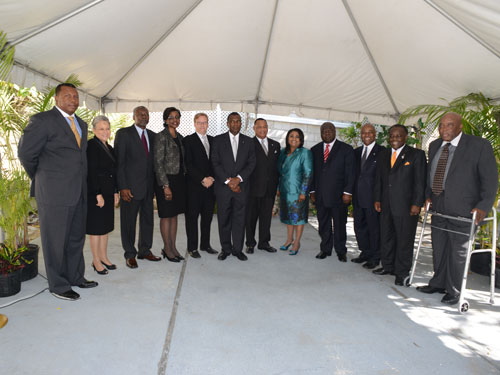 Prime Minister Perry G. Christie advised that the structural work on the High Commissioner's residence in London, which was delayed for over four and a half years, is being done at a cost of £159,000 ($246,997.67).
"This necessitates the High Commissioner living in temporary accommodations until those repairs are done," the Prime Minister said at the Formal Announcement of Heads of Mission and Consular Services at the Ministry of Foreign Affairs and Immigration Headquarters, East Hill Street, Wednesday, February 13, 2013.
Prime Minister Christie announced that Ed Bethel was The Bahamas' High Commissioner to the United Kingdom during a previous ceremony, Wednesday, September 5, 2012.
The Prime Minister noted that London is a very expensive place to live and, as unfortunate as cost is, the Government must do everything within reason to maintain the country's presence overseas.
"No one is more conscious of cost than I am about our work," Prime Minister Christie said.
"I say to our new team however, that you must not be deterred in your work by public criticism."
The Prime Minister added, "Criticism comes with the job.  Remember always that you are servants of the Bahamian people.
"I expect you to discharge your responsibilities without fear or favour in the best interests of the Bahamian people.  Once you do that, you will have my support."
He said there has been some public commentary by the Opposition about the appointments and about what the present Administration is doing in Foreign Affairs.
"I act with deliberation and I act only when it is right to act," Prime Minister Christie said.
"The FNM (Free National Movement) can have no complaint about political appointments."
The Prime Minister said when the FNM was in office, former FNM Members of Parliament and Senators, C. A. Smith, Maurice Moore, Anthony Rolle, Frank Rolle, Kay Forbes-Smith, Elma Campbell Chase, Calvin Johnson were appointed as Ambassadors and Consuls General.
"How then does the fact that one of the Prime Minister's appointees is a PLP and former Senator disqualify her for an appointment to office?"
The new Heads of Mission and Consular Services are: Ambassador to the United States of America and Permanent Representative to the Organisation of American States, Dr. Elliston Rahming; Ambassador to the Republic of Haiti and to the Dominican Republic, Commander Godfrey Rolle; High Commissioner to Canada, Calsey Johnson; Permanent Representative to the United Nations, Geneva and the World Trade Organisation, Rhonda Jackson; Consul General, Washington, D.C., Paulette Zonicle; and Press and Cultural Attaché, Washington, D.C. Oswald Brown.
By Llonella Gilbert
Bahamas Information Services