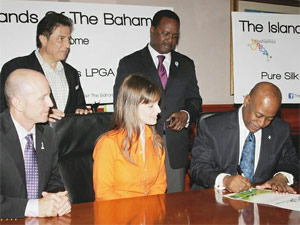 While at the Atlantis Coral Towers for the ceremonial signing of the Pure Silk-Bahamas LPGA Classic, Tourism Minister Obie Wilchcome said that the tournament will showcase the Bahamas on a global scale.
The golf tournament will bring together 144 players from around the world to  compete at The One&Only Ocean Club Golf Course over four days in May.
According to chief marketing officer Jon Podany LPGA tournaments average around 50,000 spectators. The event is anticipated to bring an influx of supporters into the country and about 4,000 room bookings for hotels, according to Mr Wilchcombe.
In a Tribune article Mr Podany was quoted: "This is very much a global tour. Not only will this tournament be broadcast around the world, but we have websites in Chinese language, in Korean language, in Japanese language and our players come from around the world."
In the same article Mr. Wilchcombe was reported to have said that he is "delighted" by the predicted worldwide attention the event will draw, noting LPGA tours have a broadcast audience of around 240 million in 171 countries.