Aspiring Chef Cordell Wells a 10th grader at the N.G.M. Major High School in Long Island, was crowned the winner of the National All-Island Senior Young Chef competition sponsored by Mahatma Rice and Robin Hood Flour. Cordell Wells is the third student of the NGM Major High School to win this national contest. Previous winners were Denece Adderley, 1998; Rhonda Major, 1995 and 1997.
Jerome Fitzgerald MP, Minister of Education and Frank Comito, Executive Vice President of the Bahamas Hotel Association both addressed and congratulated all of the participants.
In winning the 2013 overall senior championship Cordell scored 458.5 points for "Yuma Pulled Mutton in a Pumpkin Crawfish Rice Mold with Vinaigrette Coleslaw" and 471.5 points for the Best Robin Hood Flour dish, "Molten Chocolate Fruit Surprise with Coconut Cream Anglaise and Whipped Cream Topping".
Placing second overall was Luciano Simmons of Eight Mile Rock High School, Grand Bahama, with 454 points for "Mahi Mahi Rice Patty served with Pumpkin Soup" and 458.5 points for "Island Savory Cupcake Trio".
Third place went to Taneisha Rolle of C.R. Walker, with 411.5 points for "Bahama Chocolate Lava Cake" and 463.5 points for her "Spicy Coconut Conch Jambalaya with Bahama Seafood Sausage" awarded the "Best Mahatma Rice Dish".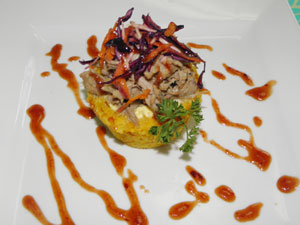 Helena Hepburn of San Salvador High placed 4th with 826.5 points for "Irresistible Tropical Pumpkin Cake with Strawberry Blueberry Cream cheese Sauce" and "Mouth Watering Rice Bowls with Salmon & Vegetable Stir fry". In addition to medals, the National Young Senior Chef winners received cash prizes of $1,500 (1st), $750 (2nd), $300 (3rd) and $200 (4th) from Mahatma Rice and Robin Hood Flour, distributed in the Bahamas by Asa H. Pritchard Ltd.
Additional scholarship prizes were awarded to the top two winners Cordell Wells of N.G.M. Major High School (1st) and Luciano Simmons of Eight Mile Rock High School (2nd), Lincoln College of Technology awarded the 10th and 11th grade students respectively with $10,000 and $5,000 scholarships. Judges at the Senior Contest were: – Executive Chef Edwin Johnson, Gilgan Holdings; Executive Chef Clement Williams, Atlantis; Executive Chef Don Ingraham, RIU; Debbie Wheeler, Manager of Test Kitchens for Mahatma Rice; Chef/Lecturer Eldred Saunders of the Culinary Hospitality Management Institute (CHMI).
Chef Edwin Johnson who has been with the competition since it's inception 21 years ago, noted "This year I have seen tremendous improvement in the quality of product produced by all of the students. Good skills were demonstrated as relates to organization, cooking skills, calmness, menu and recipe presentation and compilation with more attention paid to sanitation. We've also seen more use of indigenous products. Items like Noni, Hibiscus Flowers, Rice to make drinks and Conch made into sausage. More technique and cooking skills are being used to secure the nutritional value of food."
Jerome Fitzgerald, Minister of Education was on hand to distribute the awards. Minister Fitzgerald remarked "I commend Keith Parker and P.S. Advertising for originating the event 21 years ago. I also thank the sponsors Mahatma Rice and Robin Hood Flour, Teachers and Parents. I congratulate and encourage you students to seriously consider the career opportunities in the Culinary and Hospitality Management fields especially with the Bahamar project scheduled to be completed soon and which will seek to hire hundreds of chefs and cooks for their kitchens".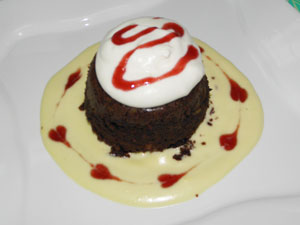 The sponsors' products, Mahatma Rice and Robin Hood Flour, are distributed in the Bahamas by Asa H. Pritchard Ltd. In addition to providing almost $4,000 in prizes each year, the sponsors also provide transportation to Nassau for each contestant with his or her teacher/coach; and cash stipends for Teachers and contestants to assist with the purchase of supplies.
Keith Parker, President of P.S. Advertising and Public Relations, organises the competition each year, in co-operation with Sharon Ferguson, of the Ministry of Education who thanked all of the contestants, teachers and coaches and particularly, the principals and Home Economic teachers of the two host schools – A.F. Adderley (Junior contests) and C.C. Sweeting Senior High School (Senior contests). Mrs. Ferguson also thanked staff members of Asa H Pritchard Ltd., distributors of Mahatma and Robin Hood products, who assisted in the calculation of results.
P.S. News/Features
Caption: N.G.M. Major student wins 21st Annual Young Chef Senior Championship Cordell Wells, centre, of N.G.M. Major High School, Long Island, was the senior winner of the recent 21th Annual Young Chef National Championship sponsored by Robin Hood Flour and Mahatma Rice. Also shown from left Debbie Wheeler, Manager of Test Kitchens for Riviana Foods (Mahatma Rice); Edward Bubulis, representing Robin Hodd Flour; Dr. Helen Carver, Lincoln College; Jerome Fitzgerald MP, Minister of Education; Chris English, Riviana Foods; and Ms. Maxine McHardy, Teacher/Coach of the winning student. Photo by Deanndra Ferguson, P.S. News/Features