$25,000 Reward To Find Murderer
March 1, 2013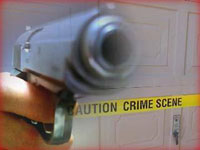 With no definite answers from police regarding an arrest in the brutal shooting death of their loved one, the family of Christopher Outten is offering a $25,000 reward leading to the arrest and conviction of the person(s) responsible.
In a press conference yesterday, family spokesman pastor Simeon Outten said that while the family is confident in the Royal Bahamas Police Force's abilities, the reward money is simply a means to assist in the matter.
"We are absolutely convinced that they (police) are doing a stellar job and we know that they have their job to do, but we are trying to assist them in this way with the hope that our plea would cause someone to make a phone call and help them in the work that they are doing," Outten explained.
Flanked by his brother Caleb Outten, former Progressive Liberal Party (PLP) Senator and Bishop Arnold Pinder, president of the Grand Bahama Christian Council, Outten said the family and friends of the late Christopher Outten is offering a reward of $25,000 for information leading to the arrest and conviction of the person or persons responsible for his death, which occurred at Grand Bahama on Saturday, January 19, 2013.
"Anyone with information is asked to please contact the Royal Bahamas Police Force Hotline at telephone number 352-1919 or 350-3106-9 and police emergency at 911," said Outten.
"Any information given will be treated in the strictest confidence with the police," he added, noting that an account has been set up at Commonwealth Bank – #7055050527 – and persons wishing to assist in adding contributions to the account may do so.
"The Outten family will be greatly appreciative," he said.
Pinder and GBCC first vice president Rev. Keith Meadows said they were present to demonstrate the council's continued support for the family "because if it is ever a time they need prayers it is right now.
"It is hard when a family member dies naturally, but it is doubly hard when a family member is killed, it is doubly, doubly hard when the family member is killed and the person is on the loose."
Pinder noted that Grand Bahama is a small island and he is convinced that somebody on the island knows exactly how 'Chris' was killed.
"We are making a special appeal, we will continue to pray and we know that prayer works … so we are here to give our full support to this family, not because this family is popular, but it is our job to see that justice prevails and we know that one day the truth will surface," Pinder added.
Christopher Outten succumbed to injuries he received following a shooting in the Deadman's Reef community in January.
According to police they received a call of shots being fired in the isolated community around 8:00 p.m. that evening. When officers arrived they found Outten in his Ford F-150 truck with bullet wounds to the upper body.
Reports revealed that Outten and his wife had just arrived at their Deadman's Reef residence, when a lone gunman accosted Outten. His wife was able to escape to the safety of a neighboring residence, where she called police.
Investigations into the death, which was classified as Grand Bahama's first murder, continues.
By Barbara Walkin
Freeport News Night Editor