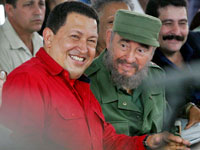 "We lost our best friend" is the title of an article written by former Cuban president Fidel Castro on the death of Venezuela's Hugo Chavez, which was published by Cuban media on Monday.
In his article, Castro recalls the news about the passing of Chavez on March 5; he said that although he was aware of the critical health conditions of the Venezuelan leader, the news strongly moved him, and that he recalled that Chavez at times played jokes by telling him that once they concluded their revolutionary task, he would invite him on a tour along the Arauca River, which reminded him of the leisure time he never enjoyed.
"We are honoured to have shared with the Bolivarian leader the same ideals of social justice and the support of the exploited ones. The poor are the poor in any part of the world," Castro wrote.
By Caribbean News Now!