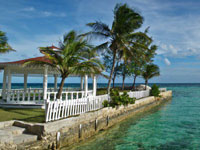 Spring break is fast approaching and students are excited to soak in some sun.
Here's how the Bahamas ranks among the top Spring Break destinations:
Access: There are direct flights from many parts of the U.S. into Nassau. The airport is also close to the resorts.
Cost: There are a large number of hotels and resorts, and they often have good deals. Some are all-inclusive, but the casinos are popular and could jack up the cost of the trip with an unlucky streak.
Activities: Many resorts host parties, which can be convenient if you are staying there, but it can also dilute the fun if there are too many separate parties. Going with a company that organizes parties is a safer bet if you want to be surrounded by spring breakers.
Safety: The criminal threat level on the island is rated as critical by the Department of State. There are increased reports of tourists being robbed at gunpoint, even during daylight hours. Assaults have also been reported in casinos, at hotels, and on cruise ships.