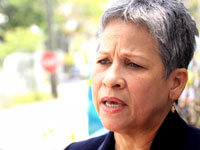 Oil and diesel fuel continued to leak into the ocean yesterday from a sunken Haitian sloop docked in Inagua, Minister of Transport and Aviation Glenys Hanna-Martin said.
It was unclear how many gallons in total leaked into the ocean.
When the spill was first reported on Sunday the Ministry of Transport and Aviation estimated 220 gallons had leaked already.
"The vessel is still leaking oil and we are seeking to engage a contractor to remove the vessel from the water, but I am told it continues to leak oil," said Hanna-Martin outside Parliament around 1 p.m.
She said poor weather conditions delayed efforts to stop the leak.
"Locally, between our government agencies there, police and the private sector, they tried to address it, but I don't think they were really equipped to deal with it," she said.
"This morning we sent down a team from the Port Department with equipment and materials because weather conditions permitted. They are now in Inagua.
"They had to get a dinghy to go out into the areas where the oil was accumulating."
The ministry said on Sunday a team of response personnel from the Port Department was unable to travel to Inagua due to inclement weather.
The 75-foot Haitian sloop and other vessels were docked in a harbor in Matthew Town after being confiscated by the Drug Enforcement Unit (DEU).
The sloop sank on Saturday night due to adverse weather conditions, officials said.
Hanna-Martin said officials from her ministry and the Department of Environmental Health were determining the best way to collect the material in the water.
But Hanna-Martin said weather conditions continued to pose a challenge yesterday and those efforts could be further delayed.
She said the incident has raised concerns about where confiscated vessels should be docked during the course of a police investigation.
"I think it also raises the question of fuel continuing to be in the vessel itself," she said.
"The Ministry of the Environment, and ourselves, and the Police Force are discussing [this], and hopefully in another few days we will agree on a protocol.
"I hope by the time I speak in Parliament we will have a finite protocol on how to deal with these issues." This oil spill is the third to occur for the year.
The last two oil spills reported by the ministry happened at the Bahamas Oil Refining Company (BORCO) on Grand Bahama.
Hanna-Martin admitted the government has lagged behind with regulations and The Bahamas is "handicapped" in some ways as it relates to technical experts.
"Once those reports are made we will see what the next step is for the government to see whether there is any recommendation for penalties or whether there is any fault attributed based on the facts," she said.
Hanna-Martin added that her ministry is reviewing the National Oil Spill Contingency Plan and hopes to strategically position oil spill equipment throughout The Bahamas.
By Royston Jones, Jr.
Guardian Staff Reporter