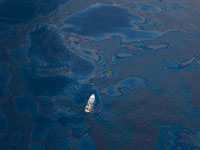 The Ministry of Transport and Aviation reported yet another oil spill on Grand Bahama, in the same area that an oil spill occurred last month.
The Bahamas Oil Refining Company (BORCO) reported the spill on Friday around 6 p.m. in waters near Pinder's Point in Freeport.
Though the cause of the oil spill has not been determined, oil was said to have covered a 70-foot stretch of rocks at a breakwater in the area of BORCO's pipelines that connect with a jetty.
In a statement issued on Saturday, the ministry said the Port Department responded to the "small quantity" of oil immediately.
"The area affected has been boomed off and any additional oil will be corralled in the area of the breakwater and will be retrieved from the water and the affected rocks will be cleaned," read the statement.
However, the ministry may not determine the cause of the leak until tomorrow because deteriorating weather conditions forecasted over the next few days may prevent divers from safely submerging.
The Port Department conducted a flyover of the general area on Saturday and again yesterday, according to Transport and Aviation Minister Glenys Hanna-Martin, who said no oil was visible at sea during the last flyover.
"While this appears to be an incident involving a small amount of oil, the ministry is very concerned about the occurrence of yet another emission of oil in Bahamian waters, particularly having regard to the possible impact on the quality of life of residents in the Pinder's Point area," read the statement.
"The ministry is currently reviewing the emergency management plan of BORCO, which was submitted since the last incident, but due to this recurrence will urgently seek to engage senior officials of BORCO in a meeting with relevant government agencies."
Hanna-Martin said yesterday that the ministry is resolved to ensure that all risk factors which could lead to a maritime oil spill are limited, including examining how the industry operates where relevant. She added there is legislation that speaks to pollution at sea.
"You can keep cleaning up, but we want to make sure there is a strong operational regime in place," she said.
On February 15, BORCO reported an oil spill from a pipeline containing oily residue in the vicinity of Pinder's Point, Grand Bahama. In that incident it was unclear how much fuel spilled.
It was the second spill reported for the year at BORCO. The first occurred on January 20 when 210 gallons of diesel fuel spilled in waters off Grand Bahama while a ship was being refueled at BORCO.
Hanna-Martin again pledged that the ministry will completely review legislation regulating the oil industry after the spills.
By: Royston Jones, Jr.
Guardian Staff Reporter