Prison Ankle Deep In Faeces
March 20, 2013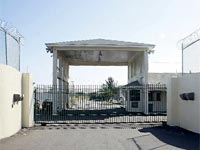 Officials from the Prison Officers Association are calling on the government to step in and rectify the growing amount of faeces that has accumulated on the ground in the maximum security section of Her Majesty's Prison.
According to POA president, Gregory Archer, the faecal matter has reached almost ankle height, causing great concern for the health of inmates and staff at the facility.
Along with his vice president Scott Williams and secretary general Darnell McKenzie, Mr Archer said they have been to the Ministry of Health to raise the matter, only to be given the runaround.