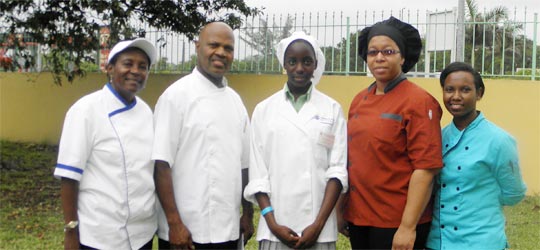 St. John's College Kenisha Stubbs Wins 21st Young Chef All Island Jr. Championship 15 year old Kenisha Stubbs of St. John's College, emerged junior Young Chef Champion of the 21st Annual Young Chef Championship sponsored by Mahatma Rice and Robin Hood Flour, both distributed in the Bahamas by Asa H. Pritchard.
Keith Parker, President of P.S. Advertising and Public Relations, organizes the competition each year, in co-operation with Sharon Ferguson, of the Ministry of Education.
Overall, Kenisha earned a total of 654 points for her "Mahi Mahi Rice Burger", judged "Best Mahatma Rice Dish" and "Nuts of Joy Pumpkin Surprise" featuring Robin Hood Flour. Placing second overall was Hazen Rolle Stubbs of L.N. Coakley High School, with 308 pts for "Crepe Cheesecake Bundles with Cocoplum and Orange Sauce" which also won the "Best Robin Hood Flour" award; and 296.5 points for "Cheesy Conch Casserole with, Mahatma Rice and Hollandaise Sauce.
Third place went to Joshua Griffin of North Eleuthera High with 283.5 points for "Sour Orange Whitefish" and 289.5 points for his "Guava Ricotta Crepes," Leandra Albury of Inagua All Age School, was fourth with a total of 553 points.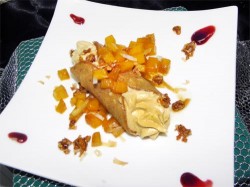 Judges for the Junior championship were Chef Charles Missick, Central Bank; Executive Sous Chef Seanette Cooper, Sandals; Executive Chef Rosemary Sinclair, Atlantis; and 2006 Sr. Champion Young Chef Winner and Graycliff Chocolatier Pastry Chef, Celeste Smith.
In addition to winning medals, the leading participants were awarded cash prizes of $250, first; $150, 2nd; $100 third and $50, fourth place.
P.S. News/Features
Top caption: 2013 Young Chef Jr. Contest a great success!
Pictured is 1st place winner Kenisha Stubbs with judges from left: Executive Chef Rosemary Sinclair, Atlantis; Chef Charles Missick, Central Bank; Executive Sous Chef Seanette Cooper, Sandals; and Pastry Chef Celeste Smith following the 2013 Jr. Young Chef Competition sponsored by Mahatma Rice and Robin Hood Flour. Photo by Deanndra Ferguson, P.S. News/Features