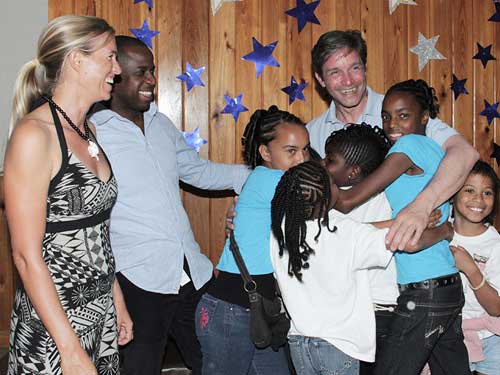 In the wake of damage to a reef in the Exumas caused by a vessel which ran aground recently, noted French oceanographic explorer Fabien Cousteau teamed up with officials to restore that vital resource of the ocean.
And, at the focus of this effort is a group of students who are members of the Bahamas National Trust Discovery Club, and were given the opportunity to meet the French aquatic filmmaker and explore the beauty of Exuma's waters.
Cousteau is a son of Jean-Michel Cousteau and grandson of famous oceanographic explorer and environmentalist Jacques-Yves Cousteau, who visited Andros in 1970 to explore and film the Andros Blue Holes.
On Saturday, April 20, 2013 the group of 14 students of St Andrews Anglican School, through snorkelling, interacted with Cousteau and members of his Plant A Fish organisation, the Bahamas National Trust, the Ministry of Tourism and others, experience the underwater environment and learn the importance of restoring the damaged reef.
The Ministry of Tourism is of paramount importance and the government in general (to this effort). He said The Bahamas is blessed with a beautiful natural resource and this is the natural resource bank account for protecting the marine resources. The Ministry also observed April as Coastal Awareness Month.
The activity was near the spot where the catamaran ran aground between Guana Cay and Fowl Cay, just outside George Town in February.
"I am blessed to be here in Exuma, because it is a beautiful place which unfortunately had an accident in the National Park recently, when a boat struck a coral reef. And I feel that human beings, if we break something we need to fix it especially in the natural world," Cousteau said.
He explained that it was important to teach the students that although accidents happen, the environment is a natural resource bank account, that it is part of a life support system and how important it is to be taken care of by all.
"In this case, coral reefs are vital to the sea and all those things that we love and enjoy are dependent upon healthy coral reefs," he said.
The third generation Cousteau, 45, who worked with his late grandfather, said it is easier to start with children because their minds are open to ideas and they become such wonderful people if they are guided in the right direction.
Stephan Miller, 10, said he was happy being a member of the Discovery Club and given the opportunity to discover the underwater life.
"It is very important for me to know about the environment so I can help protect it, especially the coral reefs,"  he said.
Catherine Booker, educator for the Bahamas National Trust, said the discovery club meets on a regular basis and exposes the children to the environment to learn new things.
"It was a wonderful opportunity to get the children to meet Cousteau and learn more about the marine environment," she said.
Part of the learning process is to get the children outside and for them to get hands on experience. "Looking at a fish, different kinds of plants are really important," she added.
Petherinna Hanna, general manager of the Tourism Office in Exuma, confirmed that Cousteau was invited by the Elizabeth Conservation Group to bring more awareness of the importance of ecotourism.
"This is really important because when we think of future generations, if we don't take care of what we have, what condition would be leaving it in," she said.
Mrs. Hanna said there is an even greater demand for ecotourism adventures by tourists who want to engage in nature-based activities.
"We are the keepers of these islands and it is our job and responsibility to make sure we keep them in pristine condition so when visitors come and enjoy, it is a pleasure."
Exuma lends itself to a diverse ecotourism experience because of its 365 cays and geographical location, she said.
By Lindsay Thompson
Bahamas Information Services