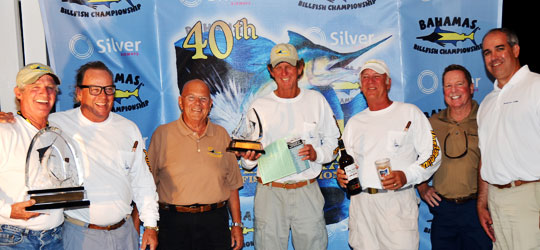 Bahamian angler, Sandy Roberts' three blue marlin releases on day two of the Guana Cay Championship propelled Team Pandemonium into the tournament lead. The Treasure Cay, Abaco based team added another blue marlin release on day four to insure owner Kim Kuhnle a clear victory at the opening tournament of the Bahamas Billfish Championship's 40th anniversary season.
BBC new-comer, Greg Smith guided Team Blue Sky to a second place finish with two blue marlin releases. The 56 Viking from Pawleys Island, South Carolina released their blues on day one and day four. Cruiser Crews' Cowpoke finished in third place. The Avon Park, Florida team released one blue marlin, two white marlin and a sailfish to accumulate 1,100 points during the four day event.
Pandemonium owner and captain, Kim Kuhnle said of the win, "We had an absolute ball! In all my years of marlin fishing, this is the first time we caught and released three blues in one day. Considering that no one on our team is under 56 years of age made it even more rewarding." All four of Pandemonium's blue marlin were caught on lures. Kuhnle went on to say, "My 1990, 61' Buddy Davis is certainly not the newest boat in the fleet which shows that the older boats still raise fish."
The Guana Cay Championship win earned Kim Kuhnle and Team Pandemonium a Randy Rich designed trophy presented by tournament sponsors Hatteras and MarineMax. In addition, Kuhnle received a $1,000 gift certificate from Aqualuma Lighting. Kim Kuhnle and mate Steve Russell each received Randy Rich designed crew trophies sponsored by the Lewis Marine Group.
Top Tournament Angler honors went to Sandy Roberts who will receive a Carey Chen print presented by International Special Risks, Smith-Merritt and Travelers. Roberts now has 1,800 points toward the newly created Jim Lambert Memorial Trophy that will be presented to the BBC's top 2013 angler at the 40th Anniversary celebration during the Marsh Harbour Championship.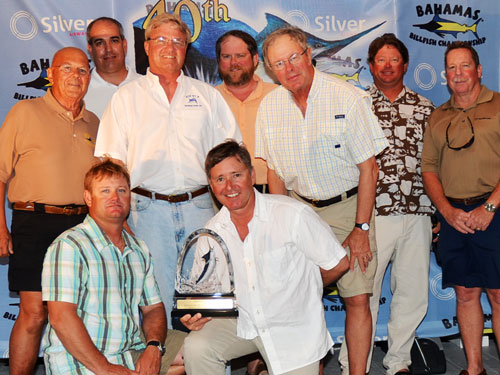 The Second Place Randy Rich designed trophy went to Blue Sky. Greg Smith's team finished with 1,200 points as a result of their two blue marlin releases. Cruiser Crews and Team Cowpoke, winners of last year's Treasure Cay Championship, received the Third Place trophy. In addition to the Hatteras and MarineMax Randy Rich trophies, the three winning teams also received gift certificates from Roffer's Ocean Fishing Forecasting Service (ROFFS) and bottles of Bacardi Anejo from Bacardi and Bristol Wine & Spirits. A contest was held on Lay Day to create a new signature drink for Orchid Bay's new Sunsetter restaurant. Pandemonium's blend of Anejo, Amaretto, ginger ale and a squeeze of fresh orange took First Place and is now the new 'Sunsetter.'
The Guana Cay Championship, hosted by Orchid Bay Yacht Club & Marina, produced 8 blue marlin, 5 white marlin and 1 sailfish. All billfish were released. All catches in Bahamas Billfish Championship tournaments are validated using time and date stamped digital images. Affidavits signed by all participants fishing on each team further confirms that the fish was released in accordance with IGFA and Bahamas Billfish Championship rules.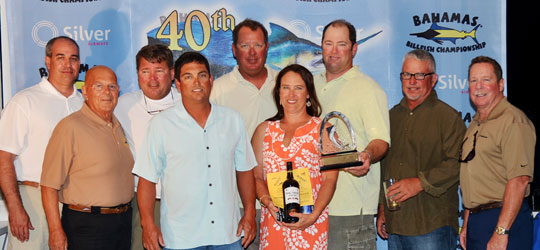 Hatteras and MarineMax were the hosting sponsors of the BBC's season opener at Guana Cay. The companies' sponsorship included a special 'Pig Roast' dinner on Tuesday evening at Nipper's. Other social function during the tournament were hosted by CAT Marine Power, Ocean Club at Port Canaveral and Aqualuma Lighting.
Now celebrating its 40th anniversary, the Bahamas Billfish Championship is the oldest billfish tournament series in the world. Anglers can fish any or all of the tournaments with cumulative points determining the overall Bahamas Billfish Champions. The BBC endowed two scholarships that enable Bahamian students the opportunity to pursue a degree in marine biology or advanced education in the marine technologies.
For the very latest tournament information, results, overall standings or to register for any of the remaining tournaments, visit our website at www.bahamasbillfish.com. Or contact the Bahamas Billfish Championship at 866-920-5577 or e-mail: info@bahamasbillfish.com. Be sure to download the new BBC App for your Android or Apple device.
Captions: in order of appearance from top:
1st place: Pandemonium. 
2nd place: Blue Sky.
3rd place: Cowpoke