BHTA Helps Prepare Workforce For Baha Mar Opportunities
April 6, 2013
BHTA and Industry Gearing Up for Baha Mar Impact:  Certificate Courses Now Being Offered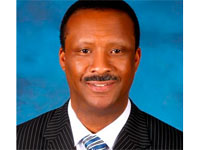 The Bahamas Hotel and Tourism Association has been working with schools and other industry stakeholders on a range of initiatives to prepare the industry and Bahamians for the employment opportunities which will become available throughout the nation as a result of the Baha Mar development.
"We are taking a multi-faceted approach to prepare our people and our industry, recognizing that the scale of the Baha Mar development and their employment needs will impact most businesses throughout The Bahamas, as many existing employees and school graduates gravitate to these new opportunities.  Individuals must be prepared to take advantage of the range of opportunities" states BHTA President Stuart Bowe.
"Working with the College of The Bahamas, last November we introduced a pilot certificate program on Basic Culinary Skills and presently the students in that program are doing internships in hotels.  It is our hope that all of them will secure employment shortly as a result of their training" adds Bowe.
BHTA and the College of the Bahamas have designed a series of certificate courses over the past year in culinary, food service, bartending, and other high demand areas.  Baha Mar and Atlantis have played a key role in developing these.  A supervisory and management course is being planned as well.
The College is presently accepting applications for the next two certificate courses which will start on April 18th.  These will cover basic culinary skills and food service.  Applications are available through the College's Continuing Education and Extension Services (CEES).
"In addition to the courses, we are supporting several high schools which are running tourism certification programs through the American Hotel Lodging Education Institute.  Industry volunteers have been engaged in the programs and also recently assisted with placements in industry by the students who are required to gain at least 160 hours of exposure to the industry.  Over 60 high school seniors participated in this and the level of talent and interest exhibited by the students is outstanding" according to Bowe.
The organization has also assisted the Ministry of Education, Science and Technology in revamping and upgrading the Hospitality and Tourism curriculum in high schools.  A major overhaul of the program is underway, being piloted this year in several public schools and ready to introduce at the grade ten level next September.   BHTA has also also provided guidance and support to private school's hospitality and tourism curriculum development and expansion.
BHTA's outreach to educators throughout the country over recent years has exposed over 900 of them to the industry through its annual week-long summer internship programs.  The organization, with the support of industry volunteers is also exposing students to tourism from all grade levels through its Junior Hotelier program – which was offered to over 1,400 students in 17 schools throughout the country last year.
"While we've tackled much in recent years, there is an urgent need by all public and private sector stakeholders to accelerate these and other education and training efforts" states Bowe.
"Industry is hoping to see two long-standing critical vacancies at the College of the Bahamas Culinary and Hospitality Management Institute filled by June.  It is essential to have committed and capable management in place there to work with us to drive these efforts".   The Executive Director and Industry Training Director positions have been vacant for several years.
"We need to ready ourselves to run numerous tracks of all the certificate programs and this requires much greater collaboration and commitments on training facilities, scheduling, and program management.  Particular emphasis must be placed on culinary and supervisory and management training, two areas where we will have the greatest need " states Bowe.
BHTA continues to assist Bahamians with finding scholarships, with nearly 100 awarded in recent years valued at $300,000.   The Minister of Education has also committed to scholarship support for tourism-related studies through the Government's scholarship program.
Focus has also been placed on foreign language training, with BHTA, the Ministry of Tourism and COB having offered both scheduled courses and online training recently.  Over 500 Bahamians have actively pursued these programs.  "Diversifying our language skills broadens our appeal as a tourism destination.  We've already seen results from this with increased arrivals from non-English speaking countries and hope to see more Bahamians become multi-lingual" according to Bowe.
"These and other initiatives present opportunities for Bahamians to acquire new skills and make themselves more marketable.  We encourage more people to invest in their future"  states the BHTA President.