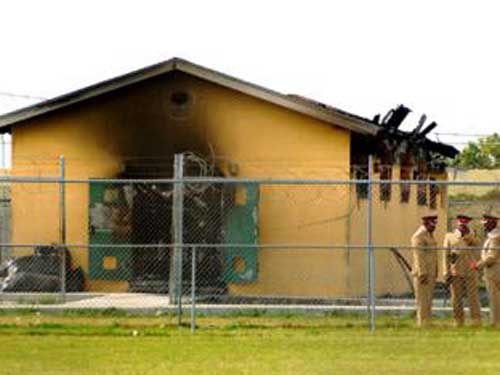 The government plans to upgrade "vexing" conditions at the Carmichael Road Detention Centre, Minister of Immigration and Foreign Affairs Fred Mitchell said yesterday.
Mitchell said the upgrades will cost "hundreds of thousands of dollars" and with design work already complete, construction should start some time in the new fiscal year.
"The detention center is a vexing issue," Mitchell said. "It requires substantial repairs and the prime minister gave an instruction about a month ago for the new dormitories to be constructed that had been burned down some 10 years ago.
"So they have to be replaced, so the construction is going to take place. We've done some minor repairs to plumbing and so forth but the facility is not what it should be, so we're going over operational procedures and trying to upgrade the facility. But the main thing for me is I don't want people staying there for any long period of time, they really should go back home.
"Since these are border states that we are dealing with, Haiti in one case which is the largest number and Cubans on the other hand, there's no reason why they should be here."
Mitchell was referring to the immigrants from Haiti and Cuba who routinely make up the bulk of detainees at the center.
Director of Immigration William Pratt said building new dormitories would go a long way to alleviate overcrowding at the holding facility.
"Hopefully we will make sufficient funding in the budget to accommodate the reconstruction of those dorms," Pratt said. "Of course I guess we can do some work with upgrading the kitchen facilities to cater more to industrial cooking. We have industrial stoves but we need some new sinks, etc. We have some work going on now, the painting of dorms and [fixing] cracks in the walls. The challenge is the space and so I think if we can get those two dorms rebuilt we will have more adequate space. That's why we try to repatriate as quickly as possible, because of our limited space."
Pratt said Immigration officials had two repatriation exercises last week. On Wednesday a group of Haitian immigrants were flown to Port-au-Prince while a group of Dominicans were flown to the Dominican Republic on Thursday.
By Taneka Thompson
Guardian Senior Reporter