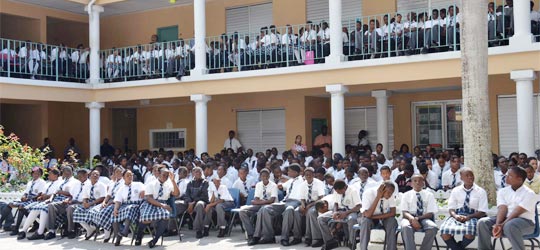 Freeport, Bahamas – As schools around the country commemorated Patron's Day to mark our 40th Independence anniversary, faculty and staff of Jack Hayward High School (JHHS)  paid homage to their patron, Sir Jack Hayward, Honourary Chairman, The Grand Bahama Port Authority, Limited (GBPA).
In a morning filled with pomp and pageantry beginning with a flag display and national anthems of both The Bahamas and Great Britain, almost 1400 students were apprised of the history of their institution and contributions of its benevolent benefactor who will soon celebrate his 90th birthday in June. Hezekiah Dean, JHHS former and first principal, 1995 –  2002, reminisced about the school's fledging beginning as an offshoot of Hawksbill High and Sir Jack's involvement in its dedication and subsequent addition of many amenities including a gymnasium, basketball and tennis courts, and even its own street, aptly named Wild Cat Alley in honour of the school's mascot.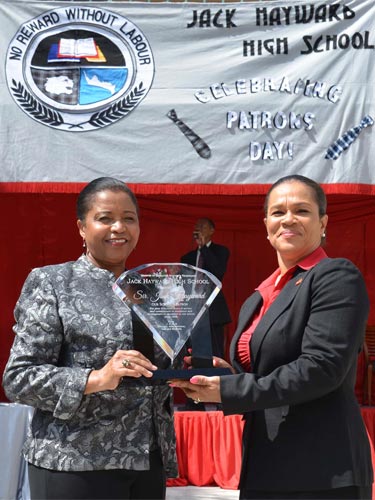 "As you pass through these halls and doors, after today may you know and always remember why this school has been named after Sir Jack Hayward.  And you should be proud that your school is what it is," Dean stated.  "But furthermore, it is not the name that I want to leave with you.  It is not the name that makes the school, but it is you and what you do while you are here that makes the difference.  That means, learn your lessons well so that the patron of this school can hear that the school is doing its best as he expects."
Accepting a glass plaque in Sir Jack's honour to commemorate the occasion was GBPA's Director of Community Relations, Geneva Rutherford.  "When you heard Mr. Dean say to you that Sir Jack's interest is your education, believe me it is very personal to him," she assured her listeners.  Reflecting on her personal experience of being present on Clifford Park on July 10, 1973, Mrs. Rutherford stated that there is no moment in any person's life like the birth of their country.  "Therefore, I beg you," she added.  "When you hear our national anthem, be proud Bahamians using gifts that Sir Jack Hayward provided for you to get an education and become a contributing person to this country we call The Bahamas."
Jack Hayward High School, named after Sir Jack Hayward, one of the original pioneers and developers of the city of Freeport, and major shareholder of The Grand Bahama Port Authority Group of Companies, is a co-educational Government Public Senior High School with a student body of 1400.  Originally known as Pioneers Loop High School, the name was changed on January 29th, 1998.
Sir Jack Hayward has been and is still very much involved in all phases of Freeport life.  He is an honourary member of the Freeport Rotary Club and a life member of both the Bahamas National Trust and Freeport Rugby Football Club.  He started the YMCA in Freeport and is the only founding member of the Freeport Players' Guild still on the island and has been president of the Guild five times during its history.  He is also the honourary Chairman of the Salvation Army Advisory Board.  Sir Jack has involved himself in many service organizations on Grand Bahama and has made substantial donations to many of them.  Pioneers such as Sir Jack Hayward paved the way for the development of Freeport.
The Grand Bahama Port Authority, Limited
Caption: L. Ward, Principal, Jack Hayward High School, which is named in his honour.