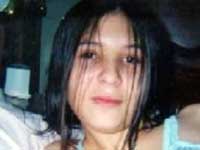 Ever since the body of his 17-year-old daughter was found stuffed in a garbage bag and flung into the Everglades more than 10 years ago, Gary Karp admits, he has been obsessed with finding Marissa's killer.
Over the decade he has served as a vice president of Broward Crime Stoppers, appeared on "America's Most Wanted," and even traveled to the Bahamas to conduct his own investigation.
So, the news last week that Randolph Almanto Coakley, 39, a man with whom Marissa Karp once lived in Hallandale Beach and who is wanted in connection with a separate 2002 double murder in Sunrise, had been murdered in the Bahamas was a setback.
"If he had information, he took it to the grave," Karp said Monday as he sat in his Broward County home. "But he may have told others. So, we're hoping that this news makes someone else come forward."
One person Karp said he would like to see come forward is sitting in the Broward County jail. Eloyn Ingraham, 35, a former associate of Coakley, is one of three men being held on murder charges in the 2006 Tamarac slaying of Broward Sheriff's Deputy Brian Tephford.
According to a search warrant executed by Collier County sheriff's detectives after Ingraham's arrest in 2006, a witness told investigators that Ingraham visited the small apartment Karp lived in with Coakley the night before Karp's body was found shot to death.
A second witness told police that Ingraham dumped Karp on Alligator Alley and that Ingraham told the witness that he had killed the teen.
BSO detectives took DNA samples from Ingraham, head and pubic hairs, and fingerprints. They also took photographs of Ingraham. The results of the DNA tests were negative. The weapon used to kill Karp has never been recovered.
Coakley, known by the street name "Prodigal," was killed Thursday in Nassau's Fox Hill section, according to Royal Bahamas Police, as he sat outside a house with two other men. A gunman walked up, shot Coakley, then fled in a waiting gold Honda Accord, police said.
In recent months, Karp said he had hoped that Coakley would soon be extradicted to the U.S. "His death is a blow, but it's not a knockout blow," said Karp, 59. "It will just make things more difficult."
Karp said that his doggedness in urging police to continue investigating his daughter's slaying comes in part from guilt. After the death of her mother, Marissa had run away from home, been in foster care and fled a Pompano Beach center for troubled youths.
"Our job as parents is to protect our children, and I didn't do that," Karp said. "The loss of a child consumes you to the point of where it destroys you, like a microwave, from the inside.
"My job is to keep the story in the eyes of the public," he said. "We're not finished."
By Mike Clary, Sun Sentinel