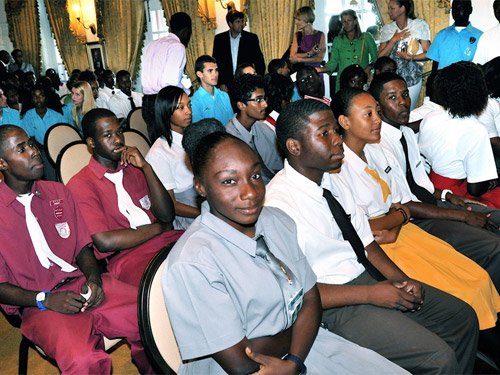 The Bahamas Outstanding Students Foundation hosted the 18th Annual "Keep Your Eyes on the Prize" Awards Ceremony on Thursday, 25th April, 2013 at Government House. More than one hundred fifty (150) primary, junior high and senior high students from public and private schools were honoured during the ceremony for attaining a grade point average of 3.00 or above.
Jerome Fitzgerald, Minister of Education, Science and Technology brought remarks at the ceremony. Minister Fitzgerald told the honourees that they were among an elite and prestigious group of students who are role models to their peers. The Minister said that he was optimistic that they would make a great impact in the future. He advised the students to be alert, determined and resilient as they keep their eyes on the prize.
Former Senator, T. Ricardo Whylly, President and CEO of the Bahamas Outstanding Students Foundation presented Sir Orville Turnquest, Former Governor General of the Commonwealth of The Bahamas with the 2013 Trailblazer Award. The award was given for Sir Orville's distinguished service and support to the Foundation for the past eighteen (18) years.
Overall Awards were presented to the male and female student from the sixth, ninth and twelfth grade with the highest GPA and student athletes with the highest GPA. The students awarded were as follows:
Primary School – ACADEMICS  
Garvin Tynes Primary School
Shone Nairn 4.00 (F)
Lillian Rolle 4.00 (F)
Alexandria Rolle 4.00 (F)
St. Bede's Catholic Primary School
Ziontae Deveaux 4.00 (F)
Christian Heritage School
Tre'en Dorsett 4.00 (M)
Bayview Academy
Kiran Ajani Halkitis 4.00 (M)
Primary School – ATHLETICS
Palmdale Primary
Immanuel R. Carey 3.68 (M)
Garvin Tynes Primary School
Alexandria Rolle 4.00 (F)
Junior High School – ACADEMICS
T. A. Thompson Junior High
Chenaniah Errisson-Johnson 4.00 (F)
L. W. Young Junior High
Akeive Burrows 3.80 (M)
Junior High School – ATHLETICS
T. A. Thompson Junior High
Breanna Pratt 3.30 (F)
St. Andrew's School
Kechelle Robinson 3.30 (F)
Prince Williams Baptist High School
Rhandon Scott 3.15 (M)
High School – ACADEMICS
Kingsway Academy
Rachael Albury 3.92 (F)
Charlea Smith 3.92 (F)
Mt. Carmel Preparatory Academy
Kurtwood Greene Jr. 3.86 (M)
High School – ATHLETICS
St. Andrew's High School
Alison Ferguson 3.64 (F)
Queen's College
Brandon Kemp 3.59 (M)
Source: Ministry of Education, Science and Technology