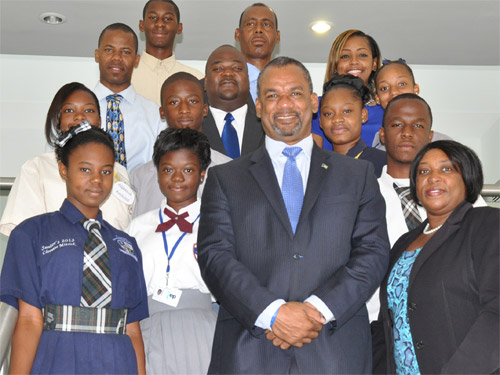 Youth Empowerment Program (YEP) is an exciting holistic after-school programme for grades nine through twelve high school students from both public and private schools.
The program is designed to inspire young people to compete on the world stage by empowering them through exposure and training in various areas inclusive of Life, College Preparatory, Job Readiness and Conflict Resolution Skills; Business; Fine Arts and Drama; Peer and Adult Mentorship; Health and Fitness; Etiquette and Grooming; Volunteerism and Local and International Field Trips. YEP runs parallel to the High School Calendar and operates in five (5) districts.
Minister Fitzgerald told the group that he is always pleased to meet young people who are energized and preparing to make positive contributions to the country. He encouraged the students to apply for grants and scholarships in key areas of development to pursue further education. He also told the students to remain confident and focused in order to experience good success.
Mr. Lincoln Deal, Chairman of YEP shared that there are 600 students accepted into the program each year. There are plans to expand the program to the Family Islands due to the high demand. Students attending the courtesy call were Clevette Missick, Lashanna Martin and Mark McKinney of C.V. Bethel Senior High School; Alphania Ambrose of Temple Christian High School; Wellington Ramsey of Hope Academy; Rosalie Munroe and Jahmel Fowler of St. Anne's High School and Cleia Carey of Prince Williams High School.
Source: Ministry of Education, Science and Technology
Pictured above with Minister Fitzgerald are Mr. Lincoln Deal, Chairman; Mr. Delano Munroe, President; Ms. Jane Roache, District Manager; Mr. Dario McKenzie, District Manager, Ms. Kimeish Wilson, District Manager and eight students who traveled to the United States recently for a tour of college campuses. Advisors and students of the Youth Empowerment Program (YEP) paid a courtesy call on the Minister of Education, Science and Technology, Jerome Fitzgerald.