Freeport Resort In Talks With Artificial Reef Maker
May 10, 2013
A US-based underwater attraction developer is in talks with Blue Diamond Resorts over creating an artificial reef world at its Grand Lucayan hotel property, an executive telling Tribune Business yesterday it was "very keen" on developing its product in the Bahamas.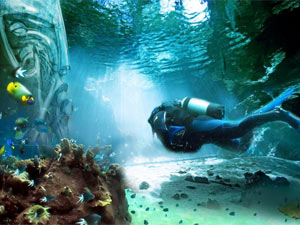 Reef Worlds is aiming to ramp up the introduction of its new underwater worlds at all-inclusive resorts in the Caribbean, thanks to its new $4.5 million development budget.
Mike Wallace, Reef Worlds' director of development,told Tribune Business that the $4.5 million should cover 10-15 hotels. He then revealed that the company was in talks with Blue Diamond Resorts, which has taken over the 503-room Reef Village at Freeport's Grand Lucayan, with the goal of re-opening it later this year following extensive upgrades.
Mr Wallace also disclosed that Reef Worlds was in talks with a Nassau-hotel on a similar venture, but declined to reveal its name.
"We are looking to expand what we do dramatically by year's end," he told Tribune Business. "The relationship with Blue Diamond is in its initial stages. We are still trying to work out the final details on that and we will see how that turns out.