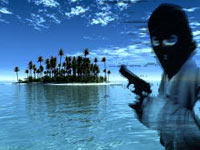 Several tourists and Bahamians were robbed at a popular downtown bar on Navy Lion Road, The Tribune has learned.
According to sources, two masked men entered 25 North Tuesday night and robbed the visitors as well as several Bahamians of their cash and other personal items.
A man who witnessed the robbery, but did not want to be identified, told The Tribune that the experience made him question whether he would ever return to the Bahamas.
According to police reports, two men, one wearing a red and black hooded jacket and the other in a black hooded jacket robbed the bar and its patrons around 11:50pm. The men then fled the area in a red jeep east along Bay Street.
This latest incident comes two weeks after American visitor Kyle Bruner was killed on East Bay Street and a week after the US issued a statement warning its citizens about travel to the Bahamas.
The US Embassy statement advised Americans living in and travelling to the Bahamas to remain on alert in an effort to avoid becoming a victim of crime.
The Embassy said several  US citizens have been robbed at gunpoint this year, and some have suffered serious injury.
"The Royal Bahamas Police Force website reports that for January 1 to April 15 there have been 328 armed robberies, 111 robberies, and 660 house break-ins," the warning said.