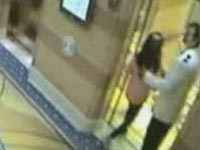 U.S. officials are reportedly "up in arms" that a Disney Cruise Line employee, accused of molesting an 11-year-old passenger, was left unscathed when authorities in the Bahamas released him following questioning.
The child, with other relatives, according to several international news agencies, was on board the Disney Dream where the girl claimed that the 33-year-old Indian employee groped her and then forced her to kiss him mouth to mouth.
Bahamian authorities, because the ship is registered under the Bahamian flag, were responsible for interrogating the dining room server after the child's grandmother reported the incident to the ship's security. The molestation occurred when the ship was docked 1,000 feet from shore at Port Canaveral, Florida.
The incident, which occurred more than nine months ago on August 6, 2012, was captured by security cameras, according to the New York Daily News.