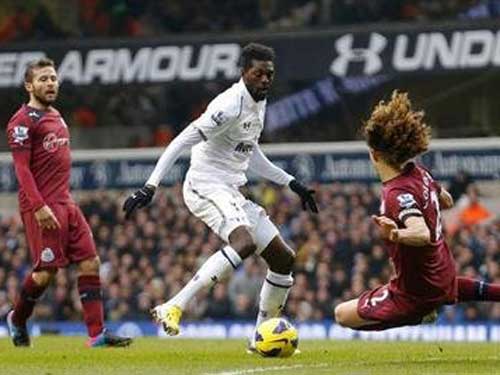 An English Premier League club will play in the Bahamas for the first time to mark the country's 40th anniversary of independence.
Tottenham Hotspur will play Jamaica in an exhibition match at the new $30 million Thomas A. Robinson National Stadium in Nassau this week, reports CMC.
Both teams accepted an invitation from the Bahamas government to play the match, one of several major events in the new 15,000 capacity stadium.
"We will be working closely with Tottenham Hotspur ahead of this match to help us develop football across the islands," said Anton Sealy, president of the Bahamas Football Association.
"We're confident that the club will enjoy its experience here and in turn attract other Premier League clubs who seek a warm and friendly place to train and prepare their squads."
The Jamaicans are using the match against Tottenham Hotspur as part of a ten day training camp in the Bahamas ahead of two crucial world cup qualifying home games next month.
The 'Reggae Boyz' plays Mexico June 4 and the US June 7 at the national stadium, in final round matches as they seek to qualify for the 2014 FIFA World Cup.
Premier League soccer star Clint Dempsey expects to be in the thick of a grueling match against Jamaica's national team, but he also expects to find time for much-needed rest and relaxation while making his first trip to The Bahamas.
"This is my first time in The Bahamas so I'm looking forward to it, and hopefully this will be a good trip," he said.
Dempsey's Tottenham Hotspur were embroiled in a tightly contested season in the Premier League, which came down to the last game to determine the fourth place finisher who would go on to compete in the Champions League. The day after the final game, the team would board a flight for a friendly match against Jamaica and a more relaxed few days in the islands of The Bahamas.
"It's difficult to prepare for the conditions because it hasn't been as warm or as humid here as it has been in The Bahamas but we are looking forward to the sunshine and looking forward to the game," Dempsey said. "Jamaica is a good team. They are in the final round of the World Cup qualifying group stages and they have some good players so it should be a good game."
After a week in Nassau and brief visits to at least one other island in The Bahamas, Dempsey will head back to the grueling work of football. AS captain of the United States' soccer team, he will go back to the United States to prepare for World Cup qualifying games. His schedule includes exhibitions against Belgium and Germany then qualifying games against Jamaica in Jamaica, Panana in Seattle and Honduras in Salt Lake City.
"So I am going to have my hands full with five games this summer," he said.